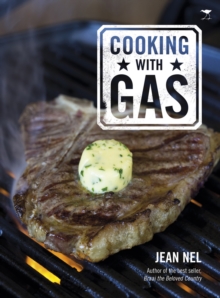 Cooking with gas
Paperback / softback
Description
Best-selling author of Braai the beloved country, Jean Nel is back with his considered and expansive book on getting the best out of your gas braai.
The braai veteran has put together a collection of stunning, crowd-pleasing recipes that gradually teach you how to use your shiny new gas braai. "I've been cooking on open fires for a long time. Admittedly I'm a bit of a purist, insisting on making a wood or charcoal fire, but when I moved from cooking socially to catering my braai became a work tool.
So I moved to gas.' With a 40% rise in gas braai sales in 2013 alone, it looks like South Africa is moving to gas braais too.
They are simple and convenient to use, and they are much cleaner to operate than their smoke-belching cousins.
Switch on, set the heat where you want it, and you can cook for hours.
The idea for a book called Cooking with gas came from Jean's ongoing research into the art of cooking outdoors.
Looking for new and interesting techniques or recipes leads him to the cookbook section of local bookstores more often than he would care to admit.
However, he noticed a definite lack of good books on how to use gas braais. The best he was bale to find was a string of titles on gas barbecues.
Most of them were either American or Australian titles.
The thing is, those foreign devils cook differently from us.
What they use their "barbie" for is quite different from what South Africans want to cook when they get together for a braai.
In the spirit of Braai the beloved country, he has created a book that shows you how to cook the old favourites and experiment with new techniques.
While he tackles some of the myths about cooking on a gas flame, Jean Nel also shows you how to cook anything from a roll of boerewors or a steak, to smoking salmon and slow-cooking the most amazing pulled beef you've ever eaten.
Cooking with gas will get you outdoors cooking more than you ever thought you would.
In it's pages you will find showstopper recipes for entertaining, as well as a simple, quick chicken breast you can pop on the braai mid-week for dinner.
Like Jean, before you know it, all your friends will be asking you for tips and tricks when you are Cooking with gas!
Information
Format: Paperback / softback
Pages: 160 pages
Publisher: Jacana Media (Pty) Ltd
Publication Date: 27/05/2015
Category: Cookery by ingredient
ISBN: 9781928247043
Also by Jean Nel