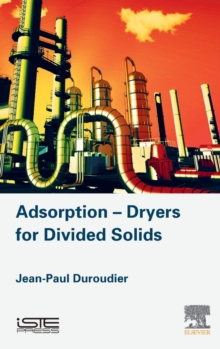 Adsorption-Dryers for Divided Solids
Hardback
Description
Adsorption-Dryers for Divided Solids, part of the Industrial Equipment for Chemical Engineering set, provides practical applications and precise knowledge on global research, presenting an in-depth study of a variety of aspects within the field of chemical engineering. This volume discusses the principle of adsorption of gaseous impurities, practical data on adsorption, ion exchange and chromatography, the theory of drying, and the theory of imbibition.
The author also provides methods needed for understanding the equipment used in applied thermodynamics in the hope of encouraging students and engineers to build their own programs.
Chapters are complemented with appendices which provide additional information and associated references.
Information
Format: Hardback
Pages: 296 pages
Publisher: ISTE Press Ltd - Elsevier Inc
Publication Date: 07/09/2016
Category: Industrial chemistry
ISBN: 9781785481796