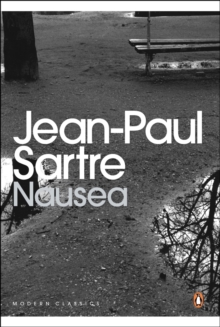 Description
Jean-Paul Sartre's first published novel, Nausea is both an extended essay on existentialist ideals, and a profound fictional exploration of a man struggling to restore a sense of meaning to his life.
This Penguin Modern Classics edition is translated from the French by Robert Baldick with an introduction by James Wood.Nausea is both the story of the troubled life of an introspective historian, Antoine Roquentin, and an exposition of one of the most influential and significant philosophical attitudes of modern times - existentialism.
The book chronicles his struggle with the realisation that he is an entirely free agent in a world devoid of meaning; a world in which he must find his own purpose and then take total responsibility for his choices.
A seminal work of contemporary literary philosophy, Nausea evokes and examines the dizzying angst that can come from simply trying to live.Jean-Paul Sartre (1905-1980) was an iconoclastic French philosopher, novelist, playwright and, widely regarded as the central figure in post-war European culture and political thinking.
Sartre famously refused the Nobel Prize for literature in 1964 on the grounds that 'a writer should not allow himself to be turned into an institution'.
His most well-known works, all of which are published by Penguin, include The Age of Reason, Nausea and Iron in the Soul.If you enjoyed Nausea, you might like Albert Camus' The Outsider, also available in Penguin Modern Classics.'One of the very few successful members of the genre "Philosophical Novel" ... a young man's tour de force'Iris Murdoch
Information
Format: Paperback
Pages: 272 pages
Publisher: Penguin Books Ltd
Publication Date: 01/11/2000
ISBN: 9780141185491
Free Home Delivery
on all orders
Pick up orders
from local bookshops
Reviews
Showing 1 - 1 of 1 reviews.
Review by SamuelW
16/06/2015
How do you reconcile your own existence in a world without meaning or purpose? With the decline of religion in a modern world, it is a question that many non-believers will find themselves asking – and some may find answers in <i>Nausea,</i> an undisputed classic of modern philosophical fiction.From atheism springs existentialism – the philosophical movement led by 20th-century French philosopher Jean-Paul Sartre – and from existentialism springs <i>Nausea</i>, Sartre's first major exploration of the ideas he became famous for. It takes the form of a diary; fittingly, a journal of philosophical ideas and their effects on the philosopher who realises them. As Sartre's prose unfolds – at times measured and sure, at times frantic and epiphanic – we begin to build a picture of the novel's protagonist, Antoine Roquentin, a historian living alone in the town of Bouville. He dines at the Café Mably, researches the Marquis de Rollebon at the library with his friend the Autodidact, observes his fellow citizens and reminisces about his past. The details of Roquentin's life, however, are deliberately unimportant; as Sartre's creation, he serves to explore ideas which are much more universal.Roquentin suffers from attacks of what he calls 'Nausea' – a crippling sense of the utter superfluity and randomness of himself and the world around him. <i>It is out of laziness</i>, Roquentin supposes, <i>that the world looks the same day after day</i>. His world is one without order or rules, where anything could happen at any time. Turning his attention to the people around him, he analyses the myriad of meaningless constructs that humans create to facilitate a comfortable illusion of order and continuity. Past, future, memory, progress, wisdom, adventure . . . as these constructs fall away from him, one by one, the knowledge of his own unmitigated existence drives him slowly insane.<i>Nausea</i>, then, is not only an exploration of Sartre's existentialist ideas. It is a cautionary tale for would-be philosophers. Perhaps it is better, Sartre acknowledges, to be ignorant and happy, like the young people the Autodidact sees admiring paintings without any idea of their meaning, and appearing to enjoy themselves regardless. <i>They must have been pretending</i>, responds Roquentin – an injection of Sartre's own dry, self-mocking wit.Indeed, the debilitating angst of <i>Nausea</i> begs an inevitable question of the reader: how is it that these can be Sartre's thoughts, Sartre's beliefs, when Sartre himself was neither mad nor depressed? The novel carries all the marks of Sartre's life and work. Its ideas are those of his later philosophical treatise, <i>Being and Nothingness</i>. Its port-town setting is strongly reminiscent of Le Havre in Haute-Normandie, where Sartre wrote <i>Nausea</i> in 1938. Connections can be spotted, here and there, between the novel and Sartre's life – like the Autodidact, for example, Sartre spent time as a prisoner of war in Germany. Long passages of the novel are devoted to mocking and criticising the constructions and trivialities of bourgeois life, in accordance with the beliefs that led Sartre to decline the Nobel Prize for Literature when it was offered to him in 1964. (These passages form the most uninteresting sections of the novel, as the insipidity of bourgeois life threatens to carry over to Sartre's prolix discussions of it.)Yet, for all his links with the tormented Roquentin, Sartre remained content with his life to the end. In his own words: <i>The only thing that I truly like to do is to be at my desk and write, especially about philosophy</i>. Philosophy for him was not a source of angst, but a source of enjoyment. How did Sartre alleviate the pain of his own existence?The answers may perhaps be found in the final few pages of <i>Nausea</i>, when the novel justifies not only Roquentin's existence, but also its own. As he listens to his favourite record for the last time, Roquentin is struck by the permanence of the melody, which does not, in itself, exist, but which nonetheless endures, even despite the scratches on the vinyl. Through their creation of music, Roquentin realises, the composer and singer have <i>cleansed themselves of the sin of existing</i>. Inspired, he resolves to do the same by writing a novel, which will be <i>beautiful and hard as steel and make people ashamed of their existence</i>: the same novel that the reader now holds.After all, what is literature but a medium for conveying ideas? Long after Sartre's death in 1980, the ideas he conveyed will live on, and this is his justification for existing. Perhaps, then, Roquentin is not so far removed from Sartre after all. It is philosophy that has awakened him to reality, philosophy that has brought his world crashing down around him, and philosophy that will ultimately save him.
Also in the Penguin Modern Classics series | View all