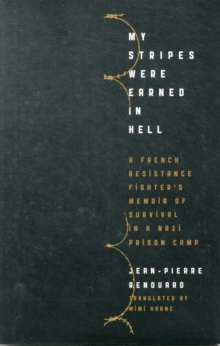 My Stripes Were Earned in Hell : A French Resistance Fighter's Memoir of Survival in a Nazi Prison Camp
Hardback
Description
This remarkable memoir tells the story of Jean-Pierre Renouard, a gentile, in Germany's Nazi prison camps.
In this spare, compelling narrative of a year during which he and the world he knew descended into hell, he recounts his battle to survive-physically, emotionally, and morally.
In May 1944, just a month before D-Day, Renouard, then a teenaged French underground fighter, was captured by the Gestapo, crammed into a cattle wagon with a hundred others, and sent to Neuengamme in Germany.
After two months, he was transferred to the Misburg subcamp.
In both camps he suffered, as did all his fellow inmates, from insufficient food and shelter and no medicine while being forced to do long hours of hard labor.
Renouard vividly depicts the labor camps' brutal daily life and social hierarchies, his personal struggles, the friendships gained and lost, and, of course, his incredible and primary task of survival.
When he was finally transferred to the infamous Bergen-Belsen death camp, a typhus epidemic had already spread, and he helplessly watched his last surviving comrades die.
Even after Allied troops liberated the camp on April 15, 1945, he had to wait painful months before he could return to France.
Written in a deliberately neutral tone, without hatred or even resentment, Renouard's memoir is a memorial to those murdered and a powerful testimony to the human capacity to commit-and to survive-mass atrocity.
Information
Format: Hardback
Pages: 136 pages
Publisher: Rowman & Littlefield
Publication Date: 08/12/2011
Category: Memoirs
ISBN: 9781442213999
Free Home Delivery
on all orders
Pick up orders
from local bookshops
Also by Jean-Pierre Renouard