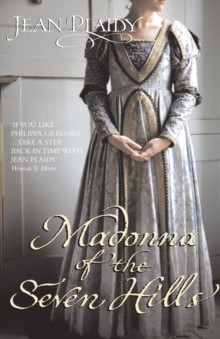 Madonna of the Seven Hills : (Lucrezia Borgia)
Paperback
Description
In a castle in the mountains outside Rome, Lucrezia Borgia is born into history's most notorious family.
Her father, who is to become Pope Alexander VI, receives his first daughter warmly, and her brothers, Cesare and Giovanni, are devoted to her.
But on the corrupt and violent streets of the capital the Borgia family are feared, and Lucrezia's father causes scandal, living up to his reputation of 'most carnal man of his age'.
As Lucrezia matures into a beautiful young woman, her brothers are ever more protective and become fierce rivals for her attention.
Amid glorious celebrations their father becomes Pope, and shortly after Lucrezia is married - but as Borgias the lives of the Pope's children are destined to be marred by scandal and tragedy, and it's a fate that Lucrezia cannot hope to escape ...
Information
Format: Paperback
Pages: 384 pages
Publisher: Cornerstone
Publication Date: 01/06/2009
Category: Historical fiction
ISBN: 9780099533054
Free Home Delivery
on all orders
Pick up orders
from local bookshops
Reviews
Showing 1 - 2 of 2 reviews.
Review by tina1969
16/06/2015
Lucrezia Borgia, daughter of Pope Alexander VI, and sister of Cesare and Giovanni, are all part of a feared family. This account is of the early life of Lucrezia as she matures into a young woman.After having watching 'The Borgias' tv series I could think of no better way than reading about them. I have always found Jean Plaidy books to be very informative and full of historical detail.However because the books are old they can be a bit dated and I do feel a little bland. Historical novels today are very lavish and can be quite sexy with plenty of bodice ripping. The historical details are there but I did find I get a little bored as the books can end up like a documentry. This is not a complete negative as the books are interesting and JP has written over the years many really good historical accounts and her tudor series is well worth reading. This is the first of two books about The Borgia family and I would recommend it ago as JP is good with history but compared with today just a little old fashioned.
Review by PhilSyphe
16/06/2015
The novel opens just before Lucrezia's birth in 1480 and continues through to 1498. The core of the story is her relationship with her father and two of her brothers, and of those brothers' mutual hate of each other. Yet they both love Lucrezia to an unnatural extent, competing for her affection from the day she's born.Must admit, I had no prior knowledge whatsoever about the Borgias, nor am I familiar with Italian history. I decided to read this partly because I'd heard/read references to the Borgia family and Lucrezia over the past few months, and partly because I enjoyed Jean Plaidy's Isabella and Ferdinand trilogy.This book, however, did not prove as engaging as any novel in the aforementioned trilogy. At times I was losing concentration, owing to the lack of action. This tended to happen during long narrative passages, in which the author is telling the reader this, that, or the other in non-exciting terms. When the focus is on character interaction the novel comes to life. Otherwise there are sections that feel like they are lacking something in some way. The characterization is very good, as is the imagery. About halfway into the book the reader is introduced to Sanchia. This promiscuous beauty adds a little spice to the tale. Lucrezia's volatile brother Cesare is a well-drawn character. He and his charismatic father, Pope Alexander VI, are two of the strongest characters in the book. Overall this book is worth reading despite being a little flat or slow paced at times.
Also in the Lucrezia Borgia series