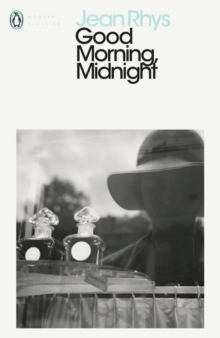 Good Morning, Midnight
Paperback
Description
An unforgettable portrait of a woman bravely confronting loneliness and despair in her quest for self-determination, Jean Rhys's Good Morning Midnight includes an introduction by A.L.
Kennedy in Penguin Modern Classics. In 1930s Paris, where one cheap hotel room is very like another, a young woman is teaching herself indifference.
She has escaped personal tragedy and has come to France to find courage and seek independence.
She tells herself to expect nothing, especially not kindness, least of all from men.
Tomorrow, she resolves, she will dye her hair blonde.
Jean Rhys was a talent before her time with an impressive ability to express the anguish of young, single women.
In Good Morning, Midnight Rhys created the powerfully modern portrait of Sophia Jansen, whose emancipation is far more painful and complicated than she could expect, but whose confession is flecked with triumph and elation.
One of the most honest and distinctive British novelists of the twentieth century, Jean Rhys wrote about women with perception and sensitivity in an innovative and often controversial way.Jean Rhys (1894-1979) was born in Dominica.
Coming to England aged 16, she drifted into various jobs before moving to Paris, where she began writing and was 'discovered' by Ford Madox Ford.
Her novels, often portraying women as underdogs out to exploit their sexualities, were ahead of their time and only modestly successful.
From 1939 (when Good Morning, Midnight was written) onwards she lived reclusively, and was largely forgotten when she made a sensational comeback with her account of Jane Eyre's Bertha Rochester, Wide Sargasso Sea, in 1966.If you enjoyed Good Morning Midnight, you might like Rhys's Voyage in the Dark, also available in Penguin Modern Classics.'Her eloquence in the language of human sexual transactions is chilling, cynical, and surprisingly moving'A.L.
Kennedy
Information
Format: Paperback
Pages: 176 pages
Publisher: Penguin Books Ltd
Publication Date: 03/08/2000
ISBN: 9780141183930
Free Home Delivery
on all orders
Pick up orders
from local bookshops
Reviews
Showing 1 - 5 of 5 reviews.
Review by miriamparker
16/06/2015
Ok. Maybe I just hate Jean Rhys, but this one is even worse than Wide Sargasso Sea. Did you know there was a dead baby in this book? I DIDN'T. Because it is senseless.
Review by Jannes
16/06/2015
Hypnotic and engaging, but still leaves me somewhat indifferent. Unsure as to why.
Review by allyshaw
16/06/2015
This book is quite dark and reassuringly human. If John Fante's hardboiled POV could be feminine and European it would sound like this. <br/><br/>Heartbreak is slipped in between notions banalities so that we hardly know what's hit us. I marvel at her narrative economy and tonal control. <br/><br/>It is also a compelling meditation on being English and a Londoner by a character who has refused both.
Review by bongo_x
16/06/2015
Wow, this is a dark book. It's very short, but I had to put it down halfway through and didn't pick it up for a week. I was a little hesitant to go back to it, even though I thought it was really good, because it's so grim. <br/><br/>It's seen through the eyes of someone who is so depressed, worn out and despondent that they can't even think straight. The writing captures that perfectly, but also makes it confusing since it's written from a first person perspective. It leaps around without explanation, and even though I often hate that this isn't actually that hard to follow and makes perfect sense in the style of the book, and doesn't feel like a writing exercise or an author showing you how clever they are. <br/><br/>I'm going to have to read this again at some point. It is the kind of book that is probably better read all at once, at least for me, and will probably gel a little more with a second reading.
Review by swampygirl
16/06/2015
It's a good book for what it is. Unfortunately poetically depressing books are exactly what I should not be reading at the moment.
Also in the Penguin Modern Classics series | View all