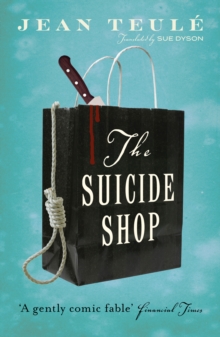 The Suicide Shop
Paperback
Description
With the twenty-first century just a distant memory and the world in environmental chaos, many people have lost the will to live. And business is brisk at The Suicide Shop. Run by the Tuvache family for generations, the shop offers an amazing variety of ways to end it all, with something to fit every budget.
The Tuvaches go mournfully about their business, taking pride in the morbid service they provide.
Until the youngest member of the family threatens to destroy their contented misery by confronting them with something they've never encountered before: a love of life.
Information
Format: Paperback
Publisher: Gallic Books
Publication Date: 01/07/2008
ISBN: 9781906040093
Free Home Delivery
on all orders
Pick up orders
from local bookshops
Reviews
Showing 1 - 5 of 5 reviews.
Review by SmithSJ01
16/06/2015
'The Suicide Shop' is a really easy one-sitting read. It flies over at only 170 pages. However, this is just the right length. There isn't anything else that Jean Teulé's could have added to it. A very cleverly written analysis of what it takes to make us happy and how powerful happiness is. The novel is set in the actual Suicide Shop where all the items in stock come from their suppliers, Don't Give A Damn About Death. If your life has been a failure, according to their carrier bags they will make death your success. This is the humourous approach evident throughout the novel. From the beginning there are laugh out loud moments and yet some of them can be quite uncomfortable. Although the reader doesn't know when the novel is set, only that it is in a France of the future we get to scrutinise the twenty-first century, warts and all.This quirky novel takes a look at our environment, society, culture and its occupants through the eyes of the Tuvache family. They have run the shop for generations and are very proud of it. Unfortunately they decided once to test one of their products, the result of which is their youngest son Alan. The Tuvache family are content with misery but Alan isn't. He is focused on a love of life. The contradiction between the family members is the underlying focus throughout the first half of the novel; the main part being society. Within the second half this switches.A fun read that will have people looking curiously at your cover if you read it in public!
Review by phoebesmum
16/06/2015
This is yet another foreign language title that reads as if it had been translated using Babelfish: flat, humourless, and entirely lacking in nuance. I should like to give it the benefit of the doubt and assume that it reads better in the original, but as the entire novel is pretty much a one-note joke and ends with an ironic twist of a punchline that I guarantee any reader will see coming from page one, I suspect it probably doesn't.
Utterly utterly awesome. Loved the concept and loved the dark humour. And the way it ended just left me reeling, but I loved that it was what the author chose to do. Awesome little book.
Review by whitreidtan
16/06/2015
You could be forgiven for wondering how a gloom-ridden, dirge-like book that touts suicide as a reasonable choice for someone who has failed at life can be funny. After all, suicide is a devastating option and it tears the heart out of those left behind. But fiction is a different animal than real life and in the case of Jean Teule's The Suicide Shop, the topic of suicide as a best option scenario is not only presented but celebrated in a blackly comic way. The Tuvache family have been the careful proprietors of a suicide shop for generations. They are especially proud that they have no repeat customers, having suggested the perfect method and offered explicit directions to each person they have served, thereby helping them to have a successful death. They offer all different options to help people prematurely leave this vale of tears and they do it well. But all is not right in the Tuvache family. Father Mishima, mother Lucrece, oldest brother Vincent, and daughter Marilyn (gotta love the blatant symbolism in each of these names) are all properly gloomy and as somber as undertakers. But youngest son Alan is, from the cradle, a spark of light, happiness, and joy, a trait that is killing the family business. Because Alan helps people see that life will improve, that this low point isn't forever, and that they have a reason to go on. And surprisingly many people do choose to go on after his smiling, cheerful hope and caring. Alan is entirely too sunny for a suicide shop and his parents want to smother the spark of optimism right out of him. He is portrayed as a typical youngest child, buzzing around, annoying his siblings, and acting completely contrarily to what his family wants from him. The novel is short and unexpected and the humor is definitely of the dark variety. The description of the things for sale in the shop are lovingly detailed and the reader can just see the whole fascinatingly morbid place. The writing is very minimalist and the tone starts as sad and pessimistic but lightens as the storyline unfolds. Alan's perpetual charm and determined positivity are the driving force of the plot as his family and the store's customers react to him, causing business to drop and mental outlooks to improve. This is an odd little book but as much as it seems to be about death, it is just as much about attitude and hope and belief in an improved future. And if you decide to read it, get back to me on just what's up with that ending, will you?
Review by grumpydan
16/06/2015
The Tuvache family runs the Suicide Shop in a world not too far into the future where life is drab and people have lost the will to live. So the Tuvache family tries to find new ways for one to off themselves. Their motto is "HAS YOUR LIFE BEEN A FAILURE? LET'S MAKE YOUR DEATH A SUCCESS!" But soon their lives take a turn because their one son is a smiling optimist. This story is a black comedy and one must love to read such stories. For me, I couldn't get into it and didn't find it funny. The characters were thinly developed and the story quick. It could be better as a one act play.