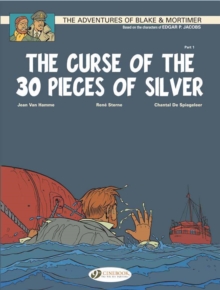 The Adventures of Blake and Mortimer : The Curse of the 30 Pieces of Silver, Part 1 v. 13
Paperback
Description
In Pennsylvania, Olrik escapes a federal prison by helicopter after a bloody attack.
With Blake forced to cut short his holidays at the news, a disappointed Mortimer turns his attention to Greece, where an earthquake has uncovered an ancient chapel.
Before long, people are trying to kill Mortimer over a mysterious Roman silver coin.
Could the long-lost relic be one of the 30 denarii paid to Judas for his betrayal of Jesus? And who exactly covets it so much?
Information
Format: Paperback
Pages: 62 pages, comic strips
Publisher: Cinebook Ltd
Publication Date: 07/06/2012
Category: Comics and Graphic Novels
ISBN: 9781849181259
Free Home Delivery
on all orders
Pick up orders
from local bookshops
Reviews
Showing 1 - 1 of 1 reviews.
Review by Michael.Rimmer
27/08/2015
This could easily be entitled <i>Indiana Jones and the Curse of the 30 Pieces of Silver</i>: it's that kind of adventure! There's also a twist of <i>The Maltese Falcon</i> in this cocktail, and why not?Ploughing a similar furrow to other Blake and Mortimer adventures (Blake and Mortimer separate to get involved in seemingly disparate plots, but you know that they're going to be connected; shadowy figures tailing the heroes; journeys to far off places; OLRIK!), if you've read the series this far you're probably going to love this story.The story involves the discovery of part of a mysterious treasure which seems to carry the curse of the Lord Almighty Himself, and which <spoiler>a cabal of Nazi survivors from the fall of the Third Reich intends to use to gain global dominion</spoiler>. The race is on for Mortimer and his comrades to recovery the rest of the treasure, and the power it represents, before the forces of evil beat them to it and secure a devastating occult weapon. Olrik's in on the plot, having been busted out of a federal penitentiary at the beginning of the story. Given he's the heroes' perpetual nemesis, he spends a lot of time playing second fiddle to more powerful figures, which is an interesting character trait.Most of the story follows Mortimer's adventures, with Blake offstage for the majority of the narrative. As this is the first of a two-part story, I expect Blake to show up in the next installment just the nick of time (and probably in disguise!) to pull Mortimer's fat out of the fire.Definitely one of the best entries in the series so far (reading in order of the English language editions).