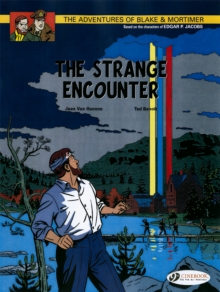 The Adventures of Blake and Mortimer : The Strange Encounter v. 5
Paperback
Description
Blake and Mortimer head to the United States to investigate the mysterious circumstances surrounding the discovery of a 177-year-old body, which appears to have died very recently.
The body is that of a Scottish major, Mortimer's forebear, who was leading a British military expedition to the US in 1777, where he was swallowed up by a strange multi-coloured light-beam shining down from the sky.
Blake and Mortimer fight men in black armed with green-laser guns and soldiers emerging from the past in order to save the Earth from complete obliteration.
Information
Format: Paperback
Pages: 68 pages, 654 illustrations
Publisher: Cinebook Ltd
Publication Date: 08/01/2009
Category: Comics and Graphic Novels
ISBN: 9781905460755
Free Home Delivery
on all orders
Pick up orders
from local bookshops
Reviews
Showing 1 - 1 of 1 reviews.
Review by adpaton
16/06/2015
It may have been written in the 21st Century but strange Encounter is mored in the Cold War days of the 1950s - 1954 to be precise: the action takes place in America and involves Kansas, Colorado, the Hoover dam and Los Alamos in a far-fetched tale involving terrorism by time travellers. What happened was that we gotr all gung-ho with atom bombs and such, bombed the stuffing out of the world, and basically destroyed the earth for centuries to come and causing future man to look rather like an alien, all green-skinned and deformed. Future man, understandably pissed off, developed time travel and has returned from the future to stop us developing these weapons of mass destruction. They do this by infiltrating moles into high positions, wearing life-like body coverings so they pass for normal, and recruiting the services of Colonel Orlik and former world despot Basam Dambu. They seem to think that by putting the megalomaniac tyrant in power they will obviate the threat of nuclear holocaust. Go figure.Beautifully drawn but weakly plotted with too many words, not enough action and no humour, ie same old. same old. Don't get me wrong, I will continue to buy the Blake and Mortimer series: despite all the negative things I have to say I do actually quite enjoy them...