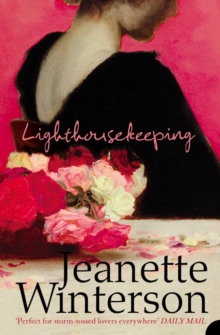 Lighthousekeeping
Paperback
Description
From one of Britain's best-loved literary novelists comes a magical, lyrical tale of the young orphan Silver, taken in by the ancient lighthousekeeper Mr. Pew, who reveals to her a world of myth and mystery through the art of storytelling.Motherless and anchorless, Silver is taken in by the timeless Mr. Pew, keeper of the Cape Wrath lighthouse. Pew tells Silver ancient tales of longing and rootlessness, of the slippages that occur throughout every life.
One life, Babel Dark's, a nineteenth-century clergyman, opens like a map that Silver must follow, and the intertwining of myth and reality, of storytelling and experience, lead her through her own particular darkness.A story of mutability, talking birds and stolen books, of Darwin and Stevenson and of the Jekyll and Hyde in all of us, Lighthousekeeping is a way into the most secret recesses of our own hearts and minds.
Jeanette Winterson is one of the most extraordinary and original writers of her generation, and this shows her at her lyrical best.
Information
Format: Paperback
Pages: 304 pages
Publisher: HarperCollins Publishers
Publication Date: 27/04/2005
ISBN: 9780007181506
Free Home Delivery
on all orders
Pick up orders
from local bookshops
Reviews
Showing 1 - 2 of 2 reviews.
Review by wandering_star
16/06/2015
Silver, an orphan girl, is apprenticed to Mr Pew the lighthousekeeper. Pew, blind and ancient, is a great teller of stories about the village's history. His tales focus on Babel Dark, a Victorian priest with a mysterious double life, who is unnerved by his discussions with Darwin (and discovery of a cave of fossils) and may have inspired Robert Louis Stevenson's most famous creation(s). At some point, round about the time that the decision is made to automate the lighthouse, the reader realises that the stories are actually about the many layers of our pasts, our lives, our various stories - and above all, the way that love both creates, and is built of, layers of memories.I started out thinking that this could be described as magical realism, but actually it's more like poetry - a flood of metaphors and interlinked ideas, sometimes elliptical.Sample: <i>You were chopping vegetables and telling me about a day in Thailand when you had seen turtles hatch in the sand. Not many of them make it to the sea, and once there, the sharks are waiting for them. Days disappear and get swallowed up much like that, but the ones like these, the ones that make it, swim out and return for the rest of your life. Thank you for making me happy.</i>
Review by startingover
16/06/2015
I must confess that I have struggled with some of Winterson's novels and didn't enjoy The Powerbook. Lighthousekeeping seems to me a much more satisfying and successful novel. Her prose has always been seductive and beautifully modulated, and it comes as no surprise to read in the 'About the Author' section featured in my paperback edition of the novel that 'Poetry is the thing that matters [to her] more than anything else'. Occasionally I felt a little overwhelmed by the weight of her admittedly lovely similes - 'pulling me behind her like an after-thought', 'the wind blew like a shriek', 'his eyes like a faraway ship'.The narrator of the story, Silver, was born in 1959. At the age of 10, having never known her father, she is orphaned when her mother is swept off a cliff. Her teacher, the aptly named Miss Pinch, apprentices Silver to the lighthouse keeper, blind Mr Pew. Silver's story runs parallel with that of Babel Dark, a 19th century preacher who falls in love with a girl called Molly. Already (unhappily) married, Dark lives a double life. When he's with Molly, he calls himself Lux.When the lighthouse is automated, Pew and Silver must leave the lighthouse. Silver wanders the world, searching for meaning and love, carrying with her Pew's legacy, the gift for storytelling. There is actually far more to the novel than this - it is a multi-layered, slippery narrative. Love, as so often in Winterson's work, 'wins the day', but what remains with me is Winterson's belief that 'storytelling is a way of navigating our lives'. For me at any rate, this novel is Winterson's richest novel to date.[September 2006]