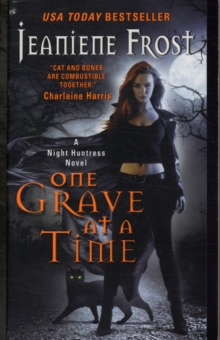 One Grave at a Time : A Night Huntress Novel
Paperback
Description
Praise for Jeaniene Frost:"Put Jeaniene Frost on your must-read list!"-Lara Adrian "A gutsy heroine to cheer for and a smoldering hero to die for."-Kresley ColeReaders can't get enough of Cat Crawfield and her sexy vampire husband Bones-especially the fans of high quality paranormal fiction who have made the novels of Charlaine Harris, Kim Harrison, Lynsay Sands, and Christine Feehan blockbuster bestsellers.
With One Grave at a Time, New York Times bestselling author Jeaniene Frost gives us another spectacular supernatural adventure in her Night Huntress series-as Cat and Bones, after narrowly averting an (under)World War, must figure out how to halt the horrific killing spree of a bloodthirsty witch hunter...a sadistic killer who has already been dead for centuries.
Information
Format: Paperback
Pages: 384 pages
Publisher: HarperCollins Publishers Inc
Publication Date: 24/08/2011
ISBN: 9780061783197
Other Formats
EPUB from £2.99
eAudiobook MP3 from £16.76
Free Home Delivery
on all orders
Pick up orders
from local bookshops
Reviews
Showing 1 - 5 of 21 reviews.
Previous | Next
Review by pacey1927
16/06/2015
I have enjoyed the Night Huntress series for quite awhile now. It has always been a must buy series for me and one I think consistantly remains high in quality. But I have to say "One Grave at A Time" is probably my favorite yet! In this installment Cat and Bones are out to trap the ghost of a man named Kramer who persecuted witches back in the day, including of course many women who were never witches at all. Now once a year on Halloween he can take human form and he kidnaps, tortures, and kills three women that night. The challenge is extra tough because how exactly do you kill a ghost? I have to say I love ghost stories. Ghosts may be my favorite paranormal species even when they play a small part in a book or series. This one introduced the very EVIL Kramer but also another ghost named Elizabeth and we get plenty of time with ghostly series regular Fabian. In addition to this, we meet another fantastic character, a medium named Tyler. Tyler and his fat dog Dexter provided a lot of the comic relief this time around and I absolutely fell in love with both of them. I hope Ms Frost plans to spend more time with them in future books because I really found them to fresh and fun. Another thing I loved about this book was the relationship between Cat and Bones. There is so much heat and passion between those two characters that I worried that later on as their relationship stablized perhaps some of that would disappear. Happily its in full force here even though Cat and Bones are happier together than ever before. And it was really nice to see them so sure of their mutual love. There was none of the relationship angst and drama in previous books. I have to say this was an excellent read and I hope everyone who has previously enjoyed the series picks this one up. If you haven't read the Night Huntress series, you seriously should. It truly is a great one.
Review by krau0098
16/06/2015
This is the sixth book in the Night Huntress series. It was a good addition to the series but was more of a transitional novel. It was good to see Cat and Bones get something of a break and fun to read a story involving ghosts.In this book Cat and Bones are asked to track down a killer ghost by one of Fabian's friends. When Cat becomes one of the ghost's targets her and Bones have no choice but to try and figure out how to fight something non-corporeal. As a side story Cat's old team is dealing with some tough management changes after Don's death.This was a fun story and a quick read. You learn even more about ghosts in this book as Cat is still suffering from the affect of drinking Majestic's blood in the last book. There are some new characters that join the story as ghost hunters that are amusing, but not in the story for all that long. You also learn about some additional powers that Bones is developing as well.While this was a fun read and had some great action scenes in it; it was more of a one installment kind of book. The majority of the problems presented are wrapped up nicely. The only thing I found disappointing was that there didn't seem to be any multiple book encompassing story introduced. It made me wonder what it next for this series.It was nice that Cat and Bones got to stay together as a couple through the book. They work wonderfully as a team and didn't have to suffer as much heartache in this book as in previous books. It is wonderful to see them as a happy couple with a relatively healthy relationship.Overall this was a nice addition to the series. It was fun to learn more about ghosts and to see Cat and Bones develop more powers and learn to control them. This seemed like more of a transitional novel though; there wasn't a new story line introduced that will span multiple books. This makes me wonder what is next for this series. I did enjoy the fact that Cat and Bones got a bit of a break in this book and that they got to spend the book working things out as a couple. I will definitely read the next book in this series, but I wonder where this series is going long term.Quick side note, this is the first book in the series that I read versus listened to on audiobook. I have to say I enjoy the audiobooks a lot more, in the future I will try to get these on audiobook instead.
Review by ABookwormsHaven
16/06/2015
Every time I pick up a Cat and Bones book, I am always thrilled and enjoy every minute I get to spend with them. I have not read a book of Jeaniene's yet that I have not enjoyed and One Grave at a Time is no exception.In this book we rejoin Cat and Bones immediately after the dust settles from their ghoul problem in the previous book. Cat's uncle is a ghost and not happy about it, and her old team seems to have found a new enemy in the form of a government agent. One thing that Jeaniene has always been good at is creating a villain you love to hate; Jason Madigan would be one of those guys. He is questioning everything about the facility that Tate has been running since Don died and going about it as rudely as possible. He also seems to have taken a special interest in Cat and messing around in her life where he is certainly not wanted. When he talked, I wanted to come through the book and punch him, so I have no idea how Cat managed to restrain herself. Unfortunately, I don't think we have seen the last of Mr. Madigan and I am sure he will be a problem in future books.If that wasn't enough, they also have Heinrich Kramer to deal with. A religious zealot who thinks all women are witches and deserved to be burned, by his hand. He died years ago, but every Halloween he takes on corporal form and is able to wreak havoc on the lives of three women by torturing and killing them. When this gets brought to Cat and Bones attention, they immediately begin to track him down and put an end to the sicko. I don't know if I have ever wanted to see someone in these books killed more than this guy. When people take their beliefs to the extreme like Kramer does and innocent lives are taken, it really burns me up. I relished watching Cat and Bones chase Kramer and give him exactly what he deserved!Alright, enough with the bad guys, let's talk about some of the good guys. My favorite part of these books has always been the relationship shared between Cat and Bones and my love of this continued through this novel. In the past Cat and Bones have always seemed to have something standing in their way or actively keeping them apart. I finally feel like we are past that point with One Grave at a Time. Bones says it better than I could though:"For the first time in years, our relationship is solid, no one's actively trying to murder us, and our closest mates are happy. Blimey, Kitten, if I were any more relaxed, I'd need a smoke."I had to laugh at that, one because it is funny and two because it is true. These two have been through more than their fair share of relationship problems and they deserve ever bit of happiness that they can get. It is nice that Jeaniene takes these two through the logical steps that they need to go through for a healthy relationship. She does not stir up trouble between them just to cause drama. The world around them is trouble enough and I am sure Cat and Bones will always find battles that need fighting, together.Since Jeaniene has a new spin off series that revolves around Ian releasing next year, I wanted to talk about him for just a minute. Okay, I just wanted an excuse to talk about him, because whenever he shows up I automatically gravitate to him. Not literally of course, but he seems to steal the scenes whenever he comes around so I beyond excited to see what trouble he gets himself into when he has a series of his own. My favorite quote from him in this book was in reference to Harry Potter. That's right; Harry has even infiltrated the world of vampires. In this scene everyone is getting ready to run out the door and follow a lead.Bones was already on his feet, Spade and Denise following suit, but Ian shot me a piqued look."You don't mean all of us, do you? The movie's not over.""You've seen this one before," I replied in disbelief.He shrugged. "Watching Snape make fun of Harry is my favorite part."Gotta love Ian. ;) It was also nice to get to see Spade and Denise again too. I love that Jeaniene brings in old characters to help out and just get an update on how they are doing.Overall, this is another fantastic addition to the Night Huntress series. Cat and Bones will keep your heart pounding for not only the action, but for Bones ability to always keep things creative with Cat. I will give you a hint as to what I am alluding to, you are going to look a flying in a whole new light after this book. That should be incentive enough to pick up this book and once you do you will be sucked in just like I was. As far as urban fantasies go this is by far one of my favorites and one you need to have on your shelf as well.
Review by kmartin802
16/06/2015
This was another great adventure for Cat & Bones. I love the way their relationship is deepening now that they are married. The problem in this one is finding out a way to kill a ghost.Heinrich Kramer was a witch hunter. He delighted in raping, torturing and burning young women at the stake after "convicting" them of being witches. Unfortunately, dying doesn't stop his personal reign of terror. Each Halloween he is able to become corporeal and continue his tradition. When one of Fabian's friends - another ghost named Elisabeth - tells Cat the story, Cat is determined to find a way to stop Kramer. Since her last adventure gave her a way to call ghosts and remnants to her, Cat thinks that she is suited for the job. But Kramer is much stronger and much more dangerous than she had anticipated. Even when he doesn't have a body, he is able to become a poltergeist and interact with physical objects. And Cat can't strike him back. She engages a medium named Tyler to see if she can find a way to banish him. Tyler provides some comic relief to the tension of the story because he is a homosexual who is constantly lusting after the very sexy vampires.Cat and Bones along with their friends Spade, Denise, and Ian have to find a way to set a trap for Kramer and rescue this year's intended victims. Complicating matters is the fact that Cat's Uncle Don didn't cross over when he died and he is around as a ghost. He wants Cat to find a way to get him to the after-world - but not until he figures out what the new boss of his old organization is up to. This new commander has a hidden agenda and an over-fascination with Cat. He gets in the way of Cat's plans and provides a number of complications.If you are looking for strong urban fantasy with a strong romance element, the Cat and Bones series is a good choice. Bones is a very romantic hero. Cat is a strong and competent heroine.
Review by RuthiesBookReviews
16/06/2015
Always a pleasure to read about Cat and Bones. Since I've read the entire series up until this point, Cat has really grown as a character and her relationship with Bones has now changed into a marriage. Now in this book she starts looking for a crazy ghost who on every Hallow's Eve can become a mortal and kills two victims. This is supposed to help make him more powerful. She's doing this as a favor to Fabian's other ghostly friend. This book brings in some of the other characters from some of the other books, which made for a new little reunion. There was a lot of action in this book so it made for a fast read. I mean, with a new person named Madigan that took the position that her uncle held in the department and boy is he waiting for her to do something stupid so he can arrest her. She's got to try to exorcist this ghost before he's able to kill again and manage to keep herself out of trouble. All in all, this book was a good read. But I think I preferred the danger to come looking for Cat and Bones and not necessarily her going to look for it. But I can understand her reasoning for trying to stop this killer ghost. Madigan was a nice touch, because he hates vampires and Cat's uncle dislikes him. He knows he's up to no good. I mean really why would you decide to take up a position to work with those that you hate? Anyways, I enjoyed this book, maybe not as much as the last few in the series, but all in all it was great and has twists and turns to keep your attention!
Also in the Night Huntress series | View all