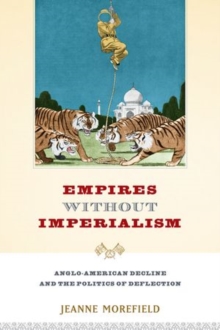 Empires Without Imperialism : Anglo-American Decline and the Politics of Deflection
Hardback
Description
The end of the Cold War ushered in a moment of nearly pure American dominance on the world stage, yet that era now seems ages ago. Since 9/11 many informed commentators have focused on the relative decline of American power in the global system. While some have welcomed this as a salutary development, outspoken proponents of American power-particularly neoconservatives-have lamented this turn of events.
As Jeanne Morefield argues in Empires WithoutImperialism, the defenders of a liberal international order steered by the US have both invoked nostalgia for a golden liberal past and succumbed to amnesia, forgetting the decidedly illiberal trajectory of US continental and global expansion. Yet as she shows, the US is not the first liberal hegemon toexperience a wave of misguided nostalgia for a bygone liberal order; England had a remarkably similar experience in the early part of the twentieth century.
The empires of the US and the United Kingdom were different in character-the UK's was territorially based while the US relied more on pure economic power-yet both nations mouthed the rhetoric of free markets and political liberty. And elites in both painted pictures of the past in which first England and then the US advanced the cause ofeconomic and political liberty throughout the world. Morefield contends that at the times of their decline, elites in both nations utilized the attributes of an imagined past to essentialize the nature of the liberal state. Working from that framework, they bemoaned the possibility of liberalism's decline and suggested a return to a true liberal order as a solution to current woes. By treating liberalism as fixed through time, however, they actively forgot their illiberal pasts as colonizers and economic imperialists. According to Morefield,these nostalgic narratives generate a cynical 'politics in the passive' where the liberal state gets to have it both ways: it is both compelled to act imperially to save the world from illiberalism and yet is never responsible for the outcome of its own illiberal actions in the world or at home. By comparing the practice and memory of liberalism in early nineteenth century England and the contemporary United States, Empires Without Imperialism addresses a major gap in the literature. While there are many examinations of current neoliberal imperialism by critical theorists as well as analyses of liberal imperialism by scholars of the history of political thought, no one has of yet combined the two approaches.
It thus provides a much fuller picture of the rhetorical strategiesbehind liberal imperialist uses of history. At the same time, the book challenges presentist assumptions about the novelty of our current political moment.
Other Formats
PDF from £22.94
Paperback / softback from £23.65
Free Home Delivery
on all orders
Pick up orders
from local bookshops