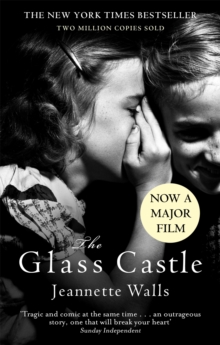 The Glass Castle
Paperback
Description
Now a major motion picture starring Brie Larson, Naomi Watts and Woody Harrelson.This is a startling memoir of a successful journalist's journey from the deserted and dusty mining towns of the American Southwest, to an antique filled apartment on Park Avenue.
Jeanette Walls narrates her nomadic and adventurous childhood with her dreaming, 'brilliant' but alcoholic parents.
At the age of seventeen she escapes on a Greyhound bus to New York with her older sister; her younger siblings follow later.
After pursuing the education and civilisation her parents sought to escape, Jeanette eventually succeeds in her quest for the 'mundane, middle class existence' she had always craved.
In her apartment, overlooked by 'a portrait of someone else's ancestor' she recounts poignant remembered images of star watching with her father, juxtaposed with recollections of irregular meals, accidents and police-car chases and reveals her complex feelings of shame, guilt, pity and pride toward her parents.
Information
Format: Paperback
Pages: 352 pages
Publisher: Little, Brown Book Group
Publication Date: 04/05/2006
Category: Memoirs
ISBN: 9781844081820
Other Formats
EPUB from £5.99
Paperback from £7.85
eAudiobook MP3 from £20.12
Free Home Delivery
on all orders
Pick up orders
from local bookshops
Reviews
Showing 1 - 4 of 4 reviews.
Review by Louashton
16/06/2015
The Glass Castle was, for me, one of the biggest surprise reads of all. I had geared myself up to read a sad, depressing book about the life of a young girl growing up with an alcoholic father. Instead, I read an amazingly uplifting book about the life of a young girl growing up with an alcoholic father. The fantasical scenarios and powerful imagery used by Walls to recreate the extraordinary and unusual life of this family almost made it sound fun in parts; which was, I guess, the author's intent - for most of the girl's life she always admired her father, despite his addiction. And just when you thought you couldn't take anymore, you dont! No overload of unbearable pain that can make reading a drag, just a great tale. I am not sure how true this story is; it doesn't seem like it can be described as a typical life for families in similar situations, but perhaps it is and I am just enjoying another moment of the blissful ignorance gained from being raised in a normal, middle class family?
Review by rkreish
16/06/2015
I'm not a huge memoir fan, but this was pretty well written. I just lose interest in lots of memoirs (An Unquiet Mind and The Liars' Club come to mind). I'm also not a huge fan of books that show up on the paperback best seller list for long periods of time because I'd like my book clubs to pick out books from whatever time period because they're great books, not because they're bestsellers and would make good movies. Part of my two book groups run on misery picks!
Review by PCB2NLS
16/06/2015
This left me really loving the memoir genre. I loved Jeannette Walls' writing style and it was an easy read that left me glued to the pages. I really felt like I came to understand the different personalities of her family members and the story really was heart-wrenching in some instances. I wouldn't say I hated her parents, but I don't think I ever really thought of them positively throughout reading the story. In my opinion The Glass Castle is definitely a must read if you're looking to sink your teeth into something. The memoir was a great read and truly humbling. I loved reading every page of it. <br/><br/>
Review by DubaiReader
16/06/2015
Truth is stranger than fiction.In this memoir, Jeanette Walls tells the story of her childhood, travelling America with her highly intelligent, yet dysfunctional parents. Her mother was an artist and shunned any suggestion of 'normal' life within four permanent walls. Her father was a vibrant character when sober, who taught his children science, geography and maths, but when drunk, transformed into a gambling, thieving liar. Much of the time they were escaping in the middle of the night from some debt or misdemeanour of their father's. Sometimes he worked, but often it ended in tears.I am always amazed at how resilient children can be. These four siblings pretty much raised themselves and frequently had more sense then their parents. When they did spend time in any one place it was generally in squalor, sleeping in cardboard boxes under leaking roofs, often not knowing where the next meal was coming from.My enduring memory from the book was when Jeanette was asked by her father what she would like for her birthday and she replied that she wanted him to stop drinking - and he did it, at least for a while. He loved his children dearly, but he loved alcohol more. He was an inventor, always coming up with some new scheme that was going to make him huge amounts of money. Perhaps his greatest pipe-dream, was the Glass Castle of the title, the fantastic house, for which he'd drawn elaborate plans, but which never came to fruition.Jeanette's mother was a complete screw-ball, I wonder if she was in some way mentally ill. She came from a wealthy family, and when things got particularly tough the family would go back and stay with the grandmother on her ranch. This was the childrens' only taste of luxury, with regular meals and a proper bed. Jeanette's mother inherited a fair amount of money and a house, on their grandmother's death, but very little changed in their way of life.The ending was revealed at the start, so it's no spoiler to say that the mother ended up homeless by choice, a denouement that I would think unbelievable if I'd read it in a novel! There is an interesting video on GoodReads, where the mother is interviewed, well worth a watch.