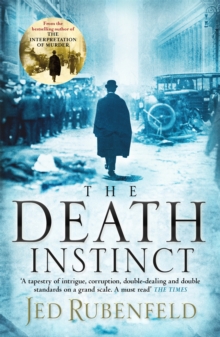 The Death Instinct
Paperback
Description
A spellbinding literary thriller about terror, war, greed, and the darkest secrets of the human soul, by the author of the million-copy bestseller, The Interpretation of Murder. September 16, 1920. Under a clear blue September sky, a quarter ton of explosives is detonated in a deadly attack on Wall Street.
Fear comes to the streets of New York. Witnessing the blast are war veteran Stratham Younger, his friend James Littlemore of the NY Police Department, and beautiful French radiochemist Colette Rousseau.
A series of inexplicable attacks on Colette, a secret buried in her past, and a mysterious trail of evidence lead Younger, Littlemore, and Rousseau on a thrilling international and psychological journey - from Paris to Prague, from the Vienna home of Freud to the corridors of power in Washington, DC, and ultimately to the hidden depths of our most savage instincts.
As the seemingly disjointed pieces of Younger and Littlemore's investigations come together, the two uncover the shocking truth about the bombing - a truth that threatens to shake their world to its foundations.
Information
Format: Paperback
Pages: 560 pages
Publisher: Headline Publishing Group
Publication Date: 01/04/2011
Category: Crime & mystery
ISBN: 9780755344024
Other Formats
EPUB from £4.99
CD-Audio from £16.95
Free Home Delivery
on all orders
Pick up orders
from local bookshops
Reviews
Showing 1 - 2 of 2 reviews.
Review by StuartAston
16/06/2015
1920's America sees an attack on Wall Street by what can only be terrorists. However when the attack is witnessed by Stratham Younger (a doctor back from the war) and his friend James Littlemore (New York Police Dept) they have more questions to be answered than just swallowing the governments answers.Why are the FBI so ready to blame Italian militants, who were the strange women in the Wall Street area, why are the army guarding JP Morgan if there is nothing to worry about?As the story unfolds we find that the official line is not actually the truth. What would happen if the truth was known? If people knew that gold was missing from the bank? Who was really involved - Italians, Mexicans or the government themselves?Alongside this why is Colette Rousseau being attacked all the time? She is only a french citizen who worked with Madame Curie - what secrets does she have that makes her so important.The story crosses two continents as the group go to Vienna to try and find the answer to Colettes secret and also to solve the muteness of her brother. Sigmund Freud hopefully can help - but will this release more secrets or help with infromation?A well written book which hold the attention. It does not play much on the links to Freud (which is good) and brings this part of the story in so that it is not unbelievable. After The Interpretation of Murder this book was just as good - amy more of these books will be on my wish list on Amazon thats for sure!
Review by AnneBrooke
27/08/2015
After trudging my way through a fair few less than stellar books recently, it's a great relief to be back in the hands of master storyteller, Jed Rubenfeld. This is a truly gripping thriller which successfully combines excellent and sometimes poetic writing with the thrills and spills of the storyline. I loved it. The two male characters, Younger and Littlemore, are simply excellent and spark off each other very well indeed. I cared about both of them very much. On the other hand, it took me a while to warm to Colette - perhaps because her actions in the beginning sometimes seem very strange and it's only much later on in the book that we realise what's actually driving her and what her real mission is. I'd also say that Rubenfeld isn't quite as spot-on with female characters as he is with male ones, but that's a minor quibble here.Other aspects of this novel I really appreciated was the domestic relationship between Littlemore and his wife - there was one moment where I held my breath and dreaded the thought that Littlemore was going to be allowed to slip into a pointless cliche moment when he was working away from home for a while, but he acts true to himself (phew!) and the pointless cliche is dodged. Thank you, Mr Rubenfeld, and yes, I should have trusted you a little more - you've not let me down yet. There's also a lovely scene between Mr and Mrs Littlemore when he is faced with a terrible choice between money which would very much help his family, and his own personal honour. Kudos to Mrs Littlemore here for opting without any hesitation at all for the personal honour choice. This was a lovely marital scene which felt very real indeed.Rübenfeld also plays teasingly with cliche when it comes to Colette's apparent relationship with the German officer she is trying to locate, but the scene when Younger pursues her out of love and discovers the real truth of the matter is excellently and breathtakingly done. It turned the whole book round on its head and I loved it. I always enjoy being so cleverly fooled by a writer - it's a real skill.And, once again, as in Rubenfeld's earlier and also excellent novel, The Interpretation of Murder, we have the presence of Sigmund Freud who is trying to help Collette's brother Luc. Freud has some great and very witty scenes and I very much appreciated them. That said, I do wonder if the Freud factor is perhaps becoming something of a deus ex machina in this author's work, and for the next novel I could probably live without it.Finally, there's also a great deal of political intrigue going on, which is very clever indeed - but I did tend to lose track every now and again - then again my particular focus as a reader is the relationships between the characters and so I wasn't greatly concerned about politics. I was more interested in the people here, who never let me down. My one other quibble is nothing to do with the book itself but its cover - I have to say I'm really rather bored with that back view of the man in a hat walking away into various scenes - it seems to be on all sorts of history and thriller books these days and I wish publishers would lay the pesky scene to rest once and for all!Anyway, cover rant over. As I expected, the closing chapters of this book are very thrilling indeed, and the ending is deeply satisfying for all. I thoroughly recommend it.5 stars. Literary thriller perfection.