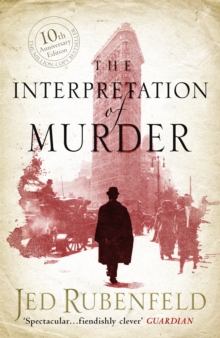 The Interpretation of Murder
Paperback
Description
The 10 year anniversary edition of a dazzling literary thriller including brand new material, THE INTERPRETATION OF MURDER is the story of Sigmund Freud assisting a Manhattan murder investigation. Think SHADOW OF THE WIND meets THE HISTORIAN. THE INTERPRETATION OF MURDER is an inventive tour de force inspired by Sigmund Freud's 1909 visit to America, accompanied by protege and rival Carl Jung.
When a wealthy young debutante is discovered bound, whipped and strangled in a luxurious apartment overlooking the city, and another society beauty narrowly escapes the same fate, the mayor of New York calls upon Freud to use his revolutionary new ideas to help the surviving victim recover her memory of the attack, and solve the crime. But nothing about the attacks - or about the surviving victim, Nora - is quite as it seems. And there are those in very high places determined to stop the truth coming out, and Freud's startling theories taking root on American soil.
Information
Format: Paperback
Pages: 576 pages
Publisher: Headline Publishing Group
Publication Date: 01/01/2007
Category: Historical mysteries
ISBN: 9780755331420
Free Home Delivery
on all orders
Pick up orders
from local bookshops
Reviews
Showing 1 - 5 of 16 reviews.
Previous | Next
Review by bluebai
16/06/2015
The storyline itself was not bad, but it seemed to be limited by the existence of Freud. In trying not to travel too far from actual historical facts, the character Freud came across as flat and nearly non-existent and the storyline sometimes felt forced and disconnected. Having said, the book itself is an interesting read with a fair enough plot.
Review by cotto
16/06/2015
The Interpretation of Murder is a great murder mystery that deftly wraps in the history of New York (where it is set) along with the psychological theories of Freud (one of the characters) and even a dash of Shakespeare. I don't normally read murder mysteries but I doubt many of them are written with this much intelligence and scope. At the same time, I do get the feeling that Rubenfield is trying to show off his skills a bit in his debut novel. He did his undergraduate thesis at Princeton on Freud and studied Shakespeare while at Juliard. Now he is a law professor at Yale. So he's a bright dude and I think he wants us all to know it. But I learned quite a few interesting tidbits while reading this book because of his eagerness to 'share' in his knowledge. The story is both interesting and engrossing. The mystery is revealed and unraveled quite quickly at the end of the book but I'd imagine that is quite common in the genre. The murder plot gets a bit complex so it'll probably one of those books where you quickly forget exactly what happens at the end soon after reading it but The Interpretation of Murder will definitely leave an impression.
Review by ErasmusBee
16/06/2015
A slow start, but quite interesting, especially the information about New York. Very complicated plot.
Review by literarytiger
16/06/2015
An interesting book, but it lacked some depth. I put this down to the author's (admirable) intention to remain true to the facts of Freud's visit to New York, but I felt that none of the characters, except perhaps Stratham Younger, truly came to life for me.Many of the conversations were a little false as Rubenfeld sought to describe psychoanalytic theory. I have studied Freud and therefore found myself skipping over the theoretical discussions, hoping that a bit more action might follow.The ending was a little disappointing, but the descriptions of New York at the turn of last century and New York society were fantastic. Definitely worth a read, but don't take it too seriously.
Review by infjsarah
16/06/2015
I only quite enjoyed this book. It has a lot of flaws. I enjoyed the description of 1909 New York - its massive change and energy. But I found the characters a bit flat and the change of point of viewconfu sing.I didn't guess the twist but I knew it wasn't the obvious candidate. I liked some of the psychological history aspects but I found the Hamlet discussion irrelevant. I suspect the author had a view that he desperately wanted to make and so shoehorned this aspect in. And heobviously doesn't like Jung much.The supposedly stupid detective actually solves the mystery, when you expect the narrator to do so.In the foreword, the author claims that he is trying to explain whyFreud called Americans "savages" but in the end the book singularlyfails to do this.The ending is actually quite confusing and complex, I'm still not sure who actually killed the girl.In many ways, the author tries to show off his knowledge a bit too much.