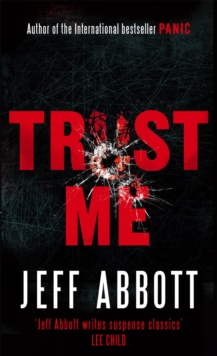 Description
Luke Dantry tragically lost his parents when he was a teenager - his father was murdered by a crazed operative, his mother died in a terrible accident.
Brought up by his stepfather, Luke now works with him on his research, monitoring extremist groups on the internet. Yet within the seemingly harmless world of the internet lie untold dangers. And Luke suddenly feels the full force of them when he is kidnapped at gunpoint in an airport car park.
As an ordinary guy, someone who has led a blameless life, he has no idea why he has been targeted.
He only knows that he has to escape - somehow. But to escape he must learn to trust no one and nothing, and to overcome an enemy more powerful than he could possibly realise - an enemy who knows more than he does about the fate of his parents...
Information
Format: Paperback
Pages: 448 pages
Publisher: Little, Brown Book Group
Publication Date: 01/06/2009
Category: Crime & mystery
ISBN: 9780751539790
Free Home Delivery
on all orders
Pick up orders
from local bookshops
Reviews
Showing 1 - 1 of 1 reviews.
Review by Tropic_of_Cancer
16/06/2015
Jeff Abbott knows how to keep the reader in suspense and intrigued, craving for answers...until some point of the book. I enjoyed reading this book, it was better than what I thought it would be and it kept me entertained. Allthough, it had too many cliches and predictable situations.SPOILERS (don't read this part if you haven't read the book, really): Aubrey being the final 'piece' in the puzzle was just stupid and unrrealistic. It felt like the author put too much thought into trying to have one of those endings where the readers are left completely choked and thinking "Wow...I never would have though it was her/him who did that." Anyway, it was predictable, as it was Luke's father being alive. If it weren't for those two things, I may have given these book 4 stars, since it was, indeed entertaining. Returning to the question about Aubrey being Jane's ally...totally idiotic. I swear I laughed at that absurdity when I read that part. Let's be honest...while on the run with Luke, Aubrey found herself in a few situations where she didn't know wether she lived or died. I think someone on the edge of the death, wouldn't care much about keeping farses. Yet, Aubrey did. She always looked so sweet and vulnerable and I guess some people are good actors like that. That's what I think...just saying. Annnd don't even get me started on the plan Jane and Aubrey started for Aubrey to get on Eric's bed and make her love her to the point of dying for her. For God's sake...their plan was perfect, but how did they know Eric would fall so deeply in love with Aubrey and all that? Yup, unrealistic. Yet, I did enjoy the book. Kinda. LOL.Terrorrism, however, is a sad reality. I will certainly read some of the books Jeff Abbott recommends about the subject.