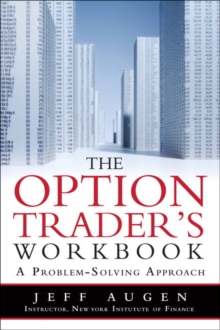 The Options Trader's Workbook : A Problem Solving Approach
Paperback
Description
"Unlike most books that oversimplify trading situations, Augen's approach forces you to learn by solving real-world problems where stock prices spike up and down and volatility changes constantly.
Learning by doing is a distinct advantage for both novice and expert." --Sean Sztern, Alternative Strategies Group, Desjardins Securities "This workbook represents a unique and effective learning tool.
It will broaden your understanding of options and raise your trading skills to a higher level." --Dr. W. Edward Olmstead, Northwestern University, author of Options for the Beginner and Beyond "Serious options trading requires skills that can only be learned through practice.
Augen's progressively more challenging problems definitely provide that real-world practice.
There are lessons here for everyone, from beginner to sophisticated professional." --James Marcus, Partner, CMG Holdings, LLC Most options books offer theory and strategies but don't give you what you really need: hands-on practice that prepares you for real-world trading, where subtle decisions make the difference between winning and losing.
Now, there's a solution: The Option Trader's Workbook. Using a question and answer format, this innovative workbook covers key scenarios you'll encounter as an option trader.
Expert trader Jeff Augen explains the challenges they present, reveals the potential pitfalls, and walks you through each example to help you understand how to maximize your success.
You'll master trades designed to profit from rising or falling stock prices, rising or falling volatility, time decay, rapid price spikes, and many other market dynamics.
Each section helps you build your skills one trade at a time---whether you're new to options or you've been trading for years. *Learn by doing--not by reading or memorizing Practice real decision-making in real trading situations*Gain a detailed, intuitive understanding of pricing Understand exactly what must happen for your trade to be profitable*Learn to identify efficient trade structures Avoid errors that cause losses even when you've correctly predicted a stock's direction*Learn how to manage risk effectively Optimize profits by choosing the right option strategy for a particular situation*Use complex trading strategies with confidence Master highly profitable techniques used by professionals
Information
Format: Paperback
Pages: 240 pages, Illustrations
Publisher: Pearson Education (US)
Publication Date: 04/12/2008
Category: Investment & securities
ISBN: 9780137148103
Other Formats
Paperback / softback from £21.75
Free Home Delivery
on all orders
Pick up orders
from local bookshops