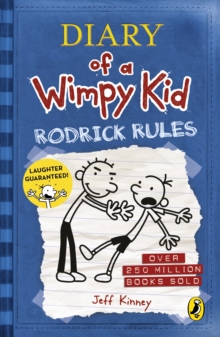 Diary of a Wimpy Kid: Rodrick Rules
Paperback
Description
Whatever you do, don't ask Greg about his summer vacation because he definitely doesn't want to talk about it . . .It's a brand-new year and a brand-new journal and Greg is keen to put the humiliating (and secret!) events of last summer firmly behind him.
But someone knows everything - someone whose job it is to most definitely not keep anything embarrassing of Greg's private - his big brother, Rodrick.
How can Greg make it through this new school year with his not-quite-cool reputation intact?
Information
Format: Paperback
Pages: 224 pages
Publisher: Penguin Books Ltd
Publication Date: 01/01/2009
Category: General
ISBN: 9780141324913
Free Home Delivery
on all orders
Pick up orders
from local bookshops
Reviews
Showing 1 - 5 of 5 reviews.
Review by bell7
16/06/2015
In the sequel to Diary of a Wimpy Kid, Greg Heffley has a new journal to write about his troubles with older brother Rodrick. Rodrick has a band that Greg can't stand, picks on Greg, and -- worst of all -- Greg can't do anything about it because Rodrick might let slip the really embarrassing thing that happened over the summer.Rodrick rules is complete with stick drawings and just as humorous as the first. The characters aren't always nice to each other (and Rodrick throws a party when his parents leave town), but are true to life. It's a quick read, and I highly recommend it for middle schoolers. I'm looking forward to reading the next installment.
Review by sirfurboy
16/06/2015
When I finished the first Wimpy Kid book I showed it to my daughter. She feigned non interest so I left it lying around and within 2 days she had read it through and was begging for more. Then we had a school book fair and she not only picked up the next two books, but she convinced loads of friends to try it too. The original copy is now on loan to friends, and I just managed to read this one after she had finished it and before she lent that one out too!So without a doubt this book is popular with its intended audience. It states 9+ on the back of the book, although my daughter is 8. There is no maximum age for this book though, because it is hilarious and works on so many levels.Adults will read this book and be transported back to their school days. Greg, the diary writer (or journal writer as he would prefer it to be called) is very much a typical 12 year old boy. The genius of this book is how the author captures that so perfectly and succinctly. Like any 12 year old boy, he does not waste words in his diary on feelings and touchy feely stuff. He writes as he thinks, and then draws pictures - and these are hilarious.I found myself literallly laughing out loud at this book (and few books have that effect on me). Anyone who has been a kid will identify with this flawed but lovable boy as he struggles against the victimisation at the hands of his older brother, and all the other curved balls life throws at him.A wuick but excellent read. Well worth it.
Review by PuffyBear
16/06/2015
This book is really, really good. I read it over at least 4 times. This book is really well plotted and filled with humor. This book is really funny. I really enjoyed it. A must read series. Really, really, good.
Review by martensgirl
16/06/2015
I found this book a little disappointing as it was not as funny as the previous book. It will still raise a smile, there are some new characters, but the plot is lacking.
Review by Nandakishore_Varma
16/06/2015
I read this book for two reasons: I needed to get my book count up for the reading challenge, and reading We Need To Talk About Kevin immediately after No Country For Old Men was too much darkness, even for me. I picked this up from son's shelf, because I had enjoyed the first book: my son was flabbergasted, and my wife made fun of me, saying she'd give me Peter Pan next. But I am glad I did pick it up, however.

Greg Heffley is a loser: bullied by his elder brother and followed about by his tattletale younger one, ignored by the pretty girls and able to befriend only the unspeakable Rowley, he must be justified in feeling that life is unjust to him. He pours all this righteous indignation into the "journal" (he will kill himself before he calls it a "diary"!) his mother forces him to write. The result is HILARIOUS.

Jeff Kinney is a truly comic writer who has mastered the strength of the understatement. Greg's voice throughout the book is a sort of sardonic monotone-one is reminded of those sad-faced clowns who will have you in stitches. The journal is pieced together in little vignettes, like a series of connected jokes-and the punchline is often a cartoon. (I feel that authors should use illustrations more often, even in serious novels. In Vanity Fair, Thackeray's illustrations are as famous as his words.)

Greg, in this book, has grown up a little from his previous outing. His sarcasm has taken on an edge, and the portraits he paints of his Dad and Mom are less than flattering. Yet, they are lovable, all the same.

Jeff Kinney has written a book that can be enjoyed by children and adults alike.

Recommended whenever one needs a mood uplift!
Also in the Diary of a Wimpy Kid series | View all