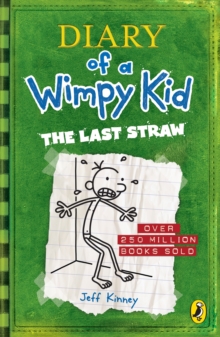 Description
The third laugh-out-loud book in the bestselling phenomenon that is the Diary of a Wimpy Kid series. Greg's dad, Frank, is on a mission - a mission to make this wimpy kid ...well, less wimpy.
All manner of 'manly' physical activities are planned, but Greg just about manages to find a way out of them.
That is until military academy is is mentioned and Greg realizes that he's going to have to come up with something very special to get out of this one ...
Information
Format: Paperback
Pages: 224 pages, Illustrations
Publisher: Penguin Books Ltd
Publication Date: 01/07/2009
Category: General
ISBN: 9780141324920
Free Home Delivery
on all orders
Pick up orders
from local bookshops
Reviews
Showing 1 - 4 of 4 reviews.
Review by sirfurboy
16/06/2015
Once again I grabbed this book as soon as I could prise it from my daughter's fingers and read it quickly before she took it to school the next day to loan it to friends.This is a wonderful series. Greg is a self centred ordinary but somewhat wimpy 12 year old boy. The things he gets up to are so wonderfully underdescribed as he writes his diary, and so hilariously set off by his illustrations, that I was literally laughing out loud at points in this book.This book is the third in the series. If you have not read the first two you should really start from the beginning as there are occasional references to earlier incidents that will make more sense that way. If you have read those and got this far, then you probably love these books as much as me (and half the kids in my daughter's class!)Excellent books for children and adults alike, and a very quick and easy read so a good one for less confident readers too.
Review by carlos40
16/06/2015
This book is about a kid named Greg. And this his second year of middle school. But he has other problems. His dad is thinking to send him to military school. So Greg has to do something.
Review by martensgirl
16/06/2015
This installment is an improvement on the last, but still not as funny as the original. The book sees Greg get into some more embarrassing situations, caused in part by his disasterous attempts at romance and tweenage shortsightedness. Adults will laugh jokes that the a younger reader may miss.
Review by Nandakishore_Varma
16/06/2015
Greg Heffley continues with his hilarious journal. It seems that he has now become accustomed to writing it, because there are no gripes about that in this book. Or maybe it is because he has much more serious things to worry about... like the school soccer team and military school.<br/><br/>Dad is determined to make a man out of Greg. Greg is quite happy to stay a wimp, playing with the latest video games and trying to impress the beautiful Holly Hills. However, being the kind of person he is, Greg finds it difficult to attack the problem outright. The only method open to him is subterfuge.<br/><br/>Two-thirds of the book recounts Greg's ineffectual attempts to get out of the soccer team and his equally ineffectual attempts to befriend Holly Hills. He uses Rowley quite shamelessly whenever he feels it would give him an advantage: however, Rowley almost always comes out on top without even trying! We cannot blame Greg for feeling that life is unfair to him.<br/><br/>Towards the last third, soccer moves to the backstage as military school moves into the limelight. Dad sees the wonders it has done for teenage troublemaker in the neighbourhood: if it can work so well on a hooligan, what will it not do for a good boy? Greg is in immediate danger of being sent to boot camp for his summer holidays. None of his stratagems, like joining the Boy Scouts, seems to have any effect in forestalling the inevitable...<br/><br/>However, fate takes a hand, and Greg escapes by a hair's breadth. How that happens is narrated in his own inimitable way by Jeff Kinney, and is the highlight of the book. It is guaranteed to leave you in stitches.<br/><br/>In this novel, we see Greg slowly forming a bond with his Dad, who we find is not very different from his son. It is quite possible that Greg will grow up to be just like his father. And for a change, the novel ends on a happy note, because Greg has run out of pages immediately after being befriended by the gorgeous Trista, the new girl in the neighbourhood. And we are also happy, because despite all his cowardly traits, Greg Heffley is a lovable kid. <br/><br/>As humorous and warm as the first two books: highly recommended.
Also in the Diary of a Wimpy Kid series | View all