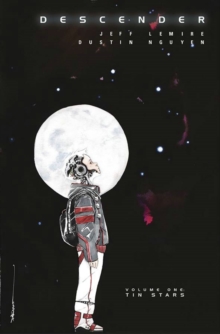 Descender Volume 1: Tin Stars
Paperback
Description
"Your new sci-fi obsession is here, and its nameis Descender..." - EntertainmentWeekly"Jeff and Dustin areaccomplishing something special..." - BoingBoing"Jeff Lemire has dreamt upan emotional, imaginative new universe, lavishly brought to life by thegreat Dustin Nguyen.
I can't wait to see where they take TIM-21 next." - BrianK.
Vaughan, SagaYoung Robot boy TIM-21 and his companionsstruggle to stay alive in a universe where all androids have been outlawed andbounty hunters lurk on every planet.
Written by award-winning creator, JeffLemire, Descender is a rip-roaring and heart-felt cosmic odyssey. Lemire pits humanity against machine, and world against world, to createa sprawling epic. Collecting issues #1-6 of Jeff Lemire (SweetTooth, Trillium) and Dustin Nguyen's (Little Gotham)critically acclaimed, bestselling new science fictionseries!
Information
Format: Paperback
Pages: 160 pages
Publisher: Image Comics
Publication Date: 22/09/2015
Category: Science fiction
ISBN: 9781632154262
Free Home Delivery
on all orders
Pick up orders
from local bookshops
Reviews
Showing 1 - 1 of 1 reviews.
Review by lostinalibrary
27/01/2016
Ten years after a devastating robot attack on the United Galactic Council that led to the banning of androids, Tim-21, a child companion robot, wakes to find himself alone on an abandoned mining colony with no recollection of this past decade. As he searches to find his human family, he is being hunted by several groups including the Council, bounty hunters, and scavengers who were all alerted to his awakening. Soon, he's on the run with his faithful robot dog companion and a huge protective driller robot with anger issues. The graphic novel Descender Vol. 1: Tin Stars is written by Jeff Lemire, illustrated by Dustin Nguyen and published by Image Comics and contains vol 1-6 of the series. Descender has been called the best comic series this year by Vox among others and rightfully so. Lemire has created a wonderfully complex and fascinating world here and the art is beautiful. This is an epic space odyssey about the relationship between humans and robots and the robots are clearly more humane than their human counterparts. It is true, of course, that this isn't the first use of a child robot to add pathos to a story or movie but Lemire and Nguyen bring their own take on it and it is wholly their own. Anyone who still believes that comics can't provide the kind of depth, emotional impact, and exciting storyline of a novel really needs to read this graphic novel – as for me, I am looking forward with anticipation to the next installment of this tale to learn the fate of Tim-21 and friends. A very high recommendation from me for fans of scifi, graphic novels or just good stories in general.