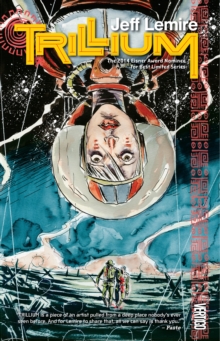 Description
Award-winning, fan-favorite comics creator Jeff Lemire spins the tale of twostar-crossed lovers through space and time in Trillium!
It's the year3797, and botanist Nika Temsmith is researching a strange species on a remotescience station near the outermost rim of colonized space.
It's the year 1921,and renowned English explorer William Pike leads an expedition into the densejungles of Peru in search of the fabled "Lost Temple of the Incas," an elusivesanctuary said to have strange healing properties.
Two disparate souls separatedby thousands of years and hundreds of millions of miles.Yet they will fall inlove and, as a result, bring about the end of the universe.
Even though realityis unraveling all around them, nothing can pull them apart.
This isn't just alove story, it's the LAST love story ever told.
Collects Trillium #1-8.
Information
Format: Paperback
Pages: 192 pages
Publisher: DC Comics
Publication Date: 12/08/2014
Category: Science fiction
ISBN: 9781401249007
Free Home Delivery
on all orders
Pick up orders
from local bookshops