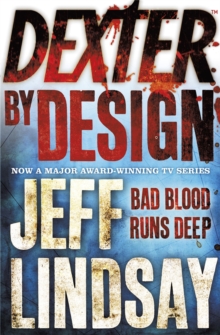 Dexter by Design
Paperback
Description
The most likeable serial killer on the block is back...Being a blood spatter analyst who hates the sight of blood has always made Dexter's work for the Miami PD tough.
But it means he's very neat when it comes to his out-of-hours hobby: murder.
Of course, the fact Dexter only kills bad people helps too. Now Dex is facing a disturbing situation. He's used to blood at work, and blood when he's out with the dark passenger (the voice that guides him on his deadly outings). But he's not sure what to make of the man who says blood is art.
Using bodies as his canvas, someone is out there expressing themselves in the most lethal and painful of ways.If Dexter's to escape the scalpel and avoid becoming the latest exhibit, he needs somewhere to run... and he might just have found the perfect place. With his wedding looming, completing his nice-guy disguise, Dexter's honeymoon might just save his skin.From the most original voice in crime fiction, DEXTER BY DESIGN is an enthralling, macabre and gruesomely entertaining thriller.
Information
Format: Paperback
Pages: 352 pages
Publisher: Orion Publishing Co
Publication Date: 01/08/2009
Category: Crime & mystery
ISBN: 9780752884615
Free Home Delivery
on all orders
Pick up orders
from local bookshops
Reviews
Showing 1 - 2 of 2 reviews.
Review by eleanor_eader
16/06/2015
Another adventure for the alliterative annihilator; this one sees Dexter looking rather more confounded and less in control than the other books in the series and suffers for it a bit; maybe Dexter cannot always be expected to be on his game, but this fresh wannabe-nemesis, an artist who likes to sculpt in the flesh, as it were, didn't seem all that challenging, and yet succeeds in running him in circles. On the positive side, Lindsay still likes to distribute cheerful and disturbing gore over a Miami landscape and Dexter is still hearing the occasional roar from his Dark Passenger, and Deborah is refusing to cut her brother any slack beyond not arresting him – and maybe even reconsidering that - and this book is no less funny and engaging and easy to read than the others.The Dexter books are collectively becoming almost a rolling satire on crime fiction, and is quite interesting and a whole other level of amusing, when viewed from that angle.…<i>by Design</i> is not the best of the Dexter books, but nowhere near bad enough to put me off reading <i>Dexter is Delicious</i> and whatever comes after.
Review by MerryMeerkat
16/06/2015
Not as good as the others in the series. I'm hoping the next one is less filler and more serial killer :-)