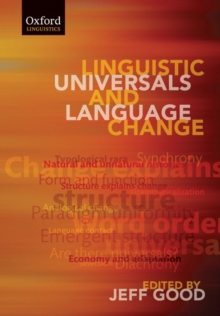 Linguistic Universals and Language Change
Hardback
Description
This book looks at the relationship between linguistic universals and language change.
Reflecting the resurgence of work in both fields over the last two decades, it addresses two related issues of central importance in linguistics: the balance between synchronic and diachronic factors in accounting for universals of linguistic structure, and the means of distinguishing genuine aspects of a universal human cognitive capacity for language from regularities that may betraced to extraneous origins.
The volume brings together specially commissioned work by leading scholars, including prominent representatives of generative and functional linguistics.
It examines rival explanations for linguistic universals and assesses the effectiveness of competing models of language change.
The authors investigate patterns and processes of grammatical and lexical change across a wide range of languages; they consider the degree to which common characteristics condition processes of change in relatedlanguages; and examine how far differences in linguistic outcomes may be explained by cultural or external factors.
This book will interest the wide range of scholars in linguistics and related fields concerned with language change, historical linguistics, linguistic typology and universals, and the nature of the human language faculty
Information
Format: Hardback
Pages: 356 pages
Publisher: Oxford University Press
Publication Date: 01/02/2008
Category: linguistics
ISBN: 9780199298495
Free Home Delivery
on all orders
Pick up orders
from local bookshops