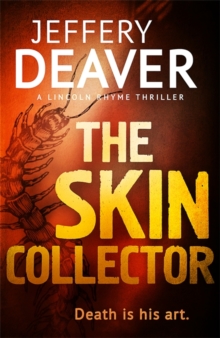 The Skin Collector : Lincoln Rhyme Book 11
Hardback
Description
COPYCAT? OR REVENGE?They have never seen a murder like it.A talented tattoo artist is using poison instead of ink.
His victim is a young woman. And on her skin he's left a message: 'the second'.Drafted in to investigate, NYPD detective Lincoln Rhyme and his associate Amelia Sachs find the scene has been scrubbed of evidence.All except for one trace - a scrap of paper that connects this case with one they will never forget.And like the Bone Collector before him, Rhyme and Sachs find themselves pitted against a twisted serial killer choosing his victims seemingly at random, a perpetrator who plans his work to the last detail, in a deadly contest with any who try to stop him.
But how close is his connection with that old case? What is the meaning of the words tattooed in poison on the skin of his first victim? And where will he strike next?
Information
Format: Hardback
Pages: 448 pages
Publisher: Hodder & Stoughton General Division
Publication Date: 01/05/2014
Category: Crime & mystery
ISBN: 9781444757453
Other Formats
Paperback from £7.85
EPUB from £1.99
Free Home Delivery
on all orders
Pick up orders
from local bookshops
Reviews
Showing 1 - 3 of 3 reviews.
Review by devenish
16/06/2015
Eleventh in the Lincoln Rhyme series. Someone in abducting people,dragging them underground and tattooing them with a different deadly poison.Rhyme and his team follow up the case and attempt to discover the killer,who is known as 'The Skin Collector'. There are many similarities to that of a much earlier killer- 'The Bone Collector'.While not Deaver's strongest book it is nevertheless an excellent read.
Review by adpaton
16/06/2015
Lincoln Rhyme and Amelia Sachs have been around for 11 books and they are still able to irritate and intrigue in equal measures. When someone starts haunting the underground and kidnapping his victims, then tattooing enigmatic messages with deadly toxins, ensuring an agonising death, the paraplegic detective thinks he is dealing with a serial killer. Eventually he and Amelia discover they are dealing with far more than a solo slayer, and the whole of New York is in danger. There are twists and blindsides and red herrings aplenty with the usual cast of characters, some of whom have very narrow escapes from the tortuous tattooist. However, the story relies on coincidences and unbelievably speedy forensic work to move the action along, and Deaver cheats by ending on something of a cliff-hanger, setting us up for a sequel.
Review by AngeloMarcos
27/08/2015
First, the disclaimer: I received this book as part of a Goodreads Giveaway. I have to say that in case the fact I won the book results in bias in favour of it, although given that I won the book in April and didn't receive it til August (and only then after Goodreads intervened on my behalf as the publisher was ignoring my messages) I reckon that probably balances out any bias I might have had…!<br/><br/>Anyway, the review. And yes, there will be SPOILERS AHEAD!<br/><br/>I really had mixed feelings about this book. I've only read book #1 of this series - The Bone Collector - which I really liked, and so was quite looking forward to reading this one. I did get the feeling at times that I was a bit late to the party though, as there were certain events/people referenced who I didn't have a clue about – although I guess jumping from book 1 to 11 will probably do that so I can't really blame the author.<br/><br/>Ignoring the fact that this book is part of a series, as a stand-alone book I thought it was alright. It kept me reading (just – it was touch and go a couple of times…), and I do like the characters of Amelia and Lincoln so it was nice to read another book in which they featured.<br/><br/>A huge problem for me was the abundance – overabundance? – of unconvincing twists and massive stretching of logic. Also, (and remember what I said about SPOILERS BEING AHEAD!) as soon as a boyfriend was mentioned, I immediately thought he'd either be the killer or be connected to the killer in some way, which was the case. Although to be fair to Jeffrey Deaver, when the killer turned up 'dead' I did think I must have been wrong about that.<br/><br/>Ultimately, it felt to me like there was too much going on in this book. Another reviewer has described it as being like 3 separate books mixed together, which I think is pretty apt. Too many characters, too many references to old crimes/books, and – oddly - too many criminals as well (the Skin Collector, his Aunt and that whole weird sex thing between them, the rest of their family and all of their issues, the Watchmaker, et al). <br/><br/>An upshot of all this is that I will be seeking out older Jeffrey Deaver books, as The Watchmaker does seem to be a pretty interesting character. <br/><br/>I guess I would recommend this book but, to be completely honest, there's lots of others that I'd recommend first.<br/>
Also in the Lincoln Rhyme Thrillers series | View all