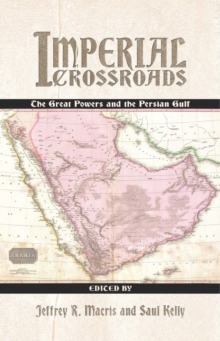 Imperial Crossroads : The Great Powers and the Persian Gulf
Hardback
Description
For centuries the world's Great Powers, along with their fleets, armies, and intelligence services, have been drawn to the Persian Gulf region.
Lying at the junction of three great continents and sitting athwart the oceanic trade routes that link the cities of the world, the Gulf, like a magnet, has pulled superpowers into the shallow waters and adjacent lands of the 600 mile long appendage of the Indian Ocean. In the Great Powers'comings and goings since the 1400s, several consistent broad interests emerged.
For the majority of this time, for example, the superpowers entered the Gulf region not to colonise, as the Europeans did in other places, but rather to further trade, which in the 20th century increasingly included oil.
They also sought a military presence in the Gulf to protect seaborne flanks to colonial possessions further east on the Indian sub-continent and beyond.
In their geo-political jockeying, furthermore, the Great Powers sought to deprive their rivals access to the states bordering the Gulf region.
In tending to these enduring interests inside the Strait of Hormuz, the Great Powers through history concentrated their trade, political, and military presence along the littorals.
Not surprisingly, their navies have played a substantive role.
Imperial Crossroads: The Great Powers and the Persian Gulf is a collection of connected chapters, each of which investigates a different perspective in the broader subject of the Great Powers and their involvement with the states of the Persian Gulf.
This volume concentrates on four western nations, Portugal, Holland, Britain, and the United States, and concludes with a look at the possible future involvement of two rising Asian powers; China and India.
Information
Format: Hardback
Pages: 272 pages, 10 maps
Publisher: Naval Institute Press
Publication Date: 15/07/2012
Category: Middle Eastern history
ISBN: 9781591144892
Free Home Delivery
on all orders
Pick up orders
from local bookshops