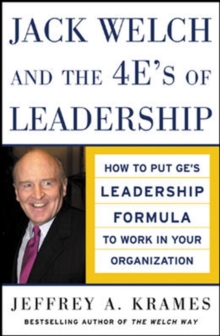 Jack Welch and The 4 E's of Leadership : How to Put GE's Leadership Formula to Work in Your Organizaion
Hardback
Description
The 4e's of leadership is the leadership model that helped make Jack Welch the greatest CEO of his day, and GE the most valuable corporation in the world.
In his 20+ years at the helm of General Electric, Welch transformed a mature manufacturing company into an ageless, services juggernaut.
He increased the value of the company more than thirty times over, and under his leadership, GE turned out more Fortune 500 CEO's than any other company in history.
He said "the smartest people in the world hire the smartest people in the world," but looked for much more than smarts.
The 4e's helped him to find and develop leaders that would live up to GE's high-octane, performance-based culture.
Those that scored high in all four "e" categories (e.g. the 4e Leader) were the ones that would help him fulfill his goal of building the world's most competitive organization. THE 4E's: * Energy. Welch says individuals with energy love to "go, go, go." Everyone knows these types, the ones with boundless energy, who get up every day ready to attack the job at hand.
High-energy people move at 95-miles-per-hour in a 55-mile-an-hour world. * Energisers know how to spark others to perform. They outline a vision and get people to carry it out.
Energizers know how to get people excited about a cause or crusade.
They are selfless in giving others the credit when things go right, but quick to accept responsibility when things go awry. * Edge. Those with edge are competitive types. They know how to make the really difficult decisions, never allowing the degree of difficulty to stand in their way.
These are leaders who know how to make what Peter Drucker calls "the life and death" decisions: hiring, firing and promoting. * Execute. This is one of the real keys to the entire 4e Model.
The first three "e's" are essential, but without measurable results, the other "e's" are of little use to an organization.
People who execute know that activity and productivity are not the same thing.
The best leaders know how to execute. They know how to convert energy and edge into action and results.
Information
Format: Hardback
Pages: 256 pages, 10 illustrations
Publisher: McGraw-Hill Education - Europe
Publication Date: 30/04/2005
Category: Management & management techniques
ISBN: 9780071457804
Free Home Delivery
on all orders
Pick up orders
from local bookshops