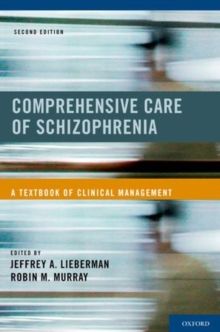 Comprehensive Care of Schizophrenia : A Textbook of Clinical Management
Paperback / softback
Description
The body of knowledge that we have accumulated about the causes and nature of schizophrenia is prodigious, and the repertoire of evidence-based treatments is substantial and increasing.
Comprehensive Care of Schizophrenia distills this corpus into the essential information that clinicians who care for persons with schizophrenia need to know.
The second edition of the popular volume is thoroughly updated, offering new information on the advances in researchand management since the first edition was published a decade ago.
Chapters are streamlined to keep content as concise as possible, while key sections have been revised and expanded to include new information on drug therapy and advice on patient care.
People with schizophrenia can suffer from multiplemorbidities and disabilities, and thus may require a variety of treatments, both pharmacological and psychosocial.
To cover the complex and growing field of schizophrenia management, renowned psychiatrists Jeffrey Lieberman and Robin Murray have recruited a distinguished group of researchers, practitioners and consumers of mental health care.
This guide delves into to all aspects of the clinical management of schizophrenia for both the health care professional who treats patients as well as theresearcher interested in the advances made in the field and their clinical application.
Information
Format: Paperback / softback
Pages: 464 pages
Publisher: Oxford University Press Inc
Publication Date: 26/04/2012
Category: Psychiatry
ISBN: 9780195388015
Free Home Delivery
on all orders
Pick up orders
from local bookshops