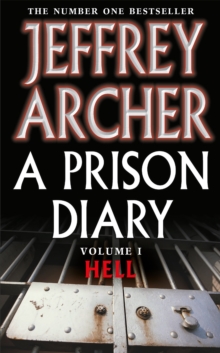 A Prison Diary Volume I : Hell
Paperback
Description
'The sun is shining through the bars of my window on what must be a glorious summer day.
I've been incarcerated in a cell five paces by three for twelve and a half hours, and will not be let out again until midday; eighteen and a half hours of solitary confinement.
There is a child of seventeen in the cell below me who has been charged with shoplifting - his first offence, not even convicted - and he is being locked up for eighteen and a half hours, unable to speak to anyone.
This is Great Britain in the twenty-first century, not Turkey, not Nigeria, not Kosovo, but Britain.' On Thursday 19 July 2001, after a perjury trial lasting seven weeks, Jeffrey Archer was sentenced to four years in jail.
He was to spend the first twenty-two days and fourteen hours in HMP Belmarsh, a double A-Category high-security prison in South London, which houses some of Britain's most violent criminals.
Hell, the first volume in Archer's The Prison Diaries, is the author's daily record of the time he spent there.
Information
Format: Paperback
Pages: 272 pages
Publisher: Pan Macmillan
Publication Date: 24/07/2003
Category: True stories
ISBN: 9780330418591
Free Home Delivery
on all orders
Pick up orders
from local bookshops
Reviews
Showing 1 - 5 of 5 reviews.
Review by Bookmarque
16/06/2015
Interesting, if dry account of Archer's first few weeks in bang up. He is appalled by everything he sees and his reaction is sort of funny. Hasn't he watched Oz or Shawshank? Hasn't he read Papillion or other novels of prison life? Not even a good documentary passed his lily white test apparently and as a result, he finds everything utterly shocking. Sheltered and privileged about sums him up. But he's gracious and brave with it.To keep his sanity and to fill the days, he writes. This is also a built-in platform for taking nice little jabs at those who he feels have wronged him. Without knowing the story outside of what Archer tells, I don't know if he's justified or not.Instead of retreating from this harsh environment and its inhabitants, he puts forth an effort to be sociable and helpful and it is rewarded fivefold. The majority of the cons he meets are reasonable people trying to do the best with their situation. Some own up and bear through. Others are adamant about innocence. Some just hang on in quiet desperation as is their English way. Archer tries to be bald, but he romaticizes all of them.Overall, it's an interesting opinion piece, but not much of a real-world prison experience. His fame alters his treatment (some for the better, some for the worse) too much for that.
Review by RochelleT
16/06/2015
I did enjoy this read, however I found it a little repetitive at times. I guess that's what prison is, but a book shouldn't be! I will read the rest of the series as I like Archer's writing style. The characters become likeable even though they are murderers, amongst other things and I found myself wishing them better lives, especially Fletch. Worth checking out.
Review by trandism
16/06/2015
A couple of years ago, I got addicted to the mini TV-series called "First Among Equals", which recount the political careers and personal lives of 4 young British MPs. Two of those are Tories, one posh that gets elected in a safe Tory constituency, one of those places where even a donkey could get elected if it got the Tory official nomination while the other has to fight in Labour-obsessed Coventry, one Labour MP and a Scot that ends up being the nationwide leader of the Lib Dems. I did what every decent fan should do and downloaded the stuff to watch it whenever I wanted. Furthermore, I got my hands on the novel the whole thing was based on. Its author was Jeffrey Archer. While reading about the man's life, I found some strange but interesting facts about him.Archer was himself a Tory MP after winning the Linconshire by-election on the 4th December 1969. His political career's zenith was his appointment as the deputy chairman of the Conservative Party during the Thatcher era. In October 1986, he was forced to resign from this position after a "prostitute" scandal that got public on the tabloids. Archer sued the Daily Star and won half a million pounds which - as all good politicians have to do after winning a case like that - he donated to charity. 12 years later he was selected as the Tory candidate for the London Mayoral Election of 2000 in an effort to make a good stand against the favourite "Red" Ken Livingstone. This was not bound to happen. On the 21st November 1999, tabloid "News of the World" published certain allegations that Jeffrey Archer had committed perjury during the 1987 libel trial. Archer withdrew from the mayoral race the next day and soon got expelled from the Conservative Party. A year and a half later he was found guilty for perjury and perverting the course of justice. He got four years imprisonment. You can imagine the shock of someone coming from a country in the olive belt at learning that an MP ended up in prison for such a "crime". Where I come from, if you get elected into parliament you can be absolutely sure that such a thing will not happen to you unless you take an axe and start slaughtering people in the middle of the street or something.Archer did an Oscar Wilde by keeping and finaly publishing his prison diaries that describe his adventures with the British judicial and penitentiary systems. His friendships with drug dealers, burglars and murderers, friendships strong, the kind that last a lifetime. You see, Jeffrey Archer was first sent to a category "A" prison inspite of the fact that this was his first conviction and did not pose serious risk or harm to the public. Despite being a former MP for christs sakes. That was and still is a fact that my Southern European mind cannot comprehend. Well what can I say. These circumstances, though unfortunate for him, gave Jeffrey Archer the proper environment to write a 3-volume masterpiece called "A Prison Diary. Volume I:Hell, Volume II: Purgatory, Volume III: Heaven", the best source of information about prisons in Great Britain I've ever stumbled upon. Gruesome and riveting!
Review by gogglemiss
16/06/2015
 Thought provoking account of the time when MP Jeffery Archer was convicted of perjury and sent to Belmarsh prison. Writing of his experiences there, was his salvation, and this was quite an absorbing account of the difficulties he faced and the inmates that he met inside.
Review by Tony2704
16/06/2015
A good read but predictable. Not sure all prisoners are treated the same. Prefer Archers novels but would read the rest of his diaries
Also in the The Prison Diaries series | View all