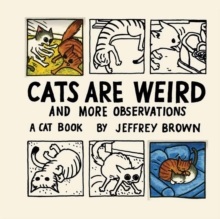 Description
Cartoonist Jeffrey Brown's drawings perfectly capture the humor and quirkiness of cats in all their strange and charming behavior.
Following the success of Cat Getting Out of a Bag (30K+ net to date), this all-new collection of COLOR and black and white comic strips loosely follows the adventures of a pair of cats as they explore the world around them, indoors and out.
Adventures include taking a nap, licking a shoe, attacking dust particles, hiding in the cabinets, pouncing on fallen leaves, confronting the vacuum cleaner, patrolling the yard, and purring up a storm-all adorably rendered in Brown's immediate and irresistible style.
Sure to delight anyone who lives with a cat and appreciates their sweet and batty behavior, this beautifully packaged gift book is the cat's meow.
Information
Format: Hardback
Pages: 108 pages, chiefly Illustrations (some col.)
Publisher: Chronicle Books
Publication Date: 28/07/2010
Category: Comics and Graphic Novels
ISBN: 9780811874809
Free Home Delivery
on all orders
Pick up orders
from local bookshops
Reviews
Showing 1 - 3 of 3 reviews.
Review by glanecia
16/06/2015
I picked this book up, just browsing the "cat" section at Barnes & Nobles. I couldn't stop laughing. The artist really nailed the character and personality of cats very well in his drawings and scenarios. I even went so far as to show this book to my own cats, because I'm a crazy-cat-lady & lol, my cat Harry freaked out like I was going to give her medicine. I'm not sure what she would rate the book, but I give it five stars!
Review by zzshupinga
16/06/2015
In the past few years it seems like cats and cat related humor have been a popular topic to depict, although not always successfully. While this may not seem like a typical type of book that most folks would want to pick up, Jeffrey Brown has quickly become one of my favorite writers/illustrators after I read The Incredible Change-Bots and its sequel, and he brings his own unique illustration style and observations to the world of cats. And I for one thoroughly enjoyed it (and yes I do have two cats…)If you own a cat, been around a cat, or even just watched a video of cat you'll realize quickly that Jeffrey Brown quickly captures the essence of almost every cat you'll ever encounter in this short book (and you'll wonder if he's been observing them in your home.) Using minimal words, Brown depicts those everyday little actions of cats and how they interact with the world around them. This book doesn't have a "story" to it, but instead one or two pages devoted to a specific cat movement, such as how when they're sitting on your legs and you move they give you that look. You know the one that says your a cushion and you shouldn't be moving around. Brown captures that look perfectly in just a few short panels, even getting the eye movement just right. Some of my favorite pages are the two cats play fighting each other and then stealing the owners spot on the couch; the battle of the vacuum cleaner; and cat hiding in the cabinet. But the whole book is well done.When I first started reading Jeffrey Brown's work, one of his autobiographical comics, I have to admit I wasn't the biggest fan of his loose, sketchy drawing style but it's grown on me since then. In this book Brown uses the same style he brought to The Incredible Change-Bots–a loose style drawn with markers, to capture the movement of cats. He uses both color and black and white to depict the various habits of cats to great effectiveness often making me wonder if he had been watching my own cats. Brown gets those little details that make the movement, the hesitation, the look in the eye, the puffing of the fur down to a T. Although the cats themselves are not depicted in a photo-realism style, these movements make them come to life.Even if you don't own a cat, this is still a book that I think of lot of people can get enjoyment out of. Brown does an excellent job of capturing the little nuances and movements that make a cat a cat. I would highly recommend this book to anyone that has ever had a cat, encountered a cat, or just anyone who wanted to know a bit more about cats or someone that just needs a smile on a rainy day. 5 out of 5 stars.
Review by diovival
16/06/2015
Another cat book? Yes! The front and back covers are filled with embedded panels illustrating some typical moments of cat weirdness. It has such a great texture and feel, as if you could pet the cats if you wanted to. [ahem, not that I tried or anything.] The heavy pages and scattered pops of color were a nice touch too.<br/><br/>I'm so happy I stumbled upon Jeffrey Brown's cat-related comics. These books really helped me appreciate my crazy-ass cat's quirks. We started off with a strained relationship....her getting into things and me asking the universe why it had done this to me. Minnie is my first cat. She's not the cat I would have picked for myself. We are more like accidental roommates. A coworker found her, and knowing my soft spot for the denizens of the animal kingdom, passed her off to me. She was a sickly little thing. I nursed her back to health only to find out that she was maybe a tad loopy. I like to think that now we understand each other a little better.<br/><br/>Cats are weird. So is Minnie. It's nice to get this kind of confirmation and be able to laugh about it.<br/>