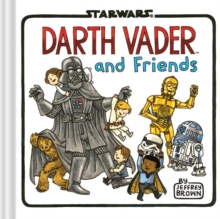 Darth Vader and Friends
Hardback
Description
In this funny and sweet new book in the bestselling Darth Vader(t) series, Eisner Award--winning author Jeffrey Brown offers an intimate look at the friendships between best pals in the Star Wars universe, from Darth Vader and the Emperor to Leia and her Ewok pals, Han and Chewie, C-3PO and R2-D2, the bounty hunters and other favourite characters.
Jealousy, birthday parties, lightsaber battles, sharing, intergalactic rebellion and more all come into play as Brown's charming illustrations and humour irresistibly combine the adventures of our friends in a galaxy far, far away with everyday events closer to home.
Information
Format: Hardback
Pages: 64 pages, 4-colour illustrations throughout
Publisher: Chronicle Books
Publication Date: 28/04/2015
Category: Space opera
ISBN: 9781452138107
Other Formats
Other printed item from £4.55
EPUB from £6.71
Free Home Delivery
on all orders
Pick up orders
from local bookshops
Reviews
Showing 1 - 5 of 9 reviews.
Previous | Next
Review by DanieXJ
27/08/2015
This was awesome, but that's not surprising. These little books by Brown are hilarious for the most part. They take current life and delightfully mash it with Star Wars lore and such. Not to mention he also takes all that and twists in wicked funny and surprising ways.I think my favorite page was the one in the Cantina with the Dum-Dum-Dum stuff. But a lot of the Luke/Leia and Darth stuff was funny as well. And the addition of Han Solo and Chewie made it nice and well rounded funniness.Just an all around fun book not just for kids, but for all ages.
Review by jmgold
27/08/2015
This marks the fourth of these Star Wars strips collection that Jeffrey Brown has produced. Brown's cartooning is full of undeniable wit and charm, but after so many such collections the novelty has unsurprisingly worn off. If this is your first exposure to Brown's works or you're just a die hard Star Wars fan you will love this collection, I just wish Brown would finally turn his talents to opener material.
Review by aethercowboy
27/08/2015
In a follow up to Darth Vader and Son, Vader's Little Princess, and Goodnight Darth Vader comes Darth Vader and Friends, a humorous continuations at the Dark Lord's plight as raises his two children. Containing little scenes blending the funny things kids do with some of the more memorable parts of Star Wars, Jeffrey Brown has shown himself once again to be the best person for writing humorous illustrated books about Star Wars. If you liked the above books, or his Jedi Academy series, you'll definitely like this one too.
Review by nighthawk4486
27/08/2015
Books written off a simple concept often work the first time and then quickly have diminishing returns. Just look at the William Shakespeare's Star Wars series, which was quite funny in the first book but quickly gets old after that. That's what makes the Jeffrey Brown books a nice refreshing change of pace. Yes, they are still working off the same simple concept. Yes, they continue to come out each year just in time for the spring holidays (Mothers Day and Fathers Day). But they continue to work for two reasons. The first is that Brown's illustrations really are adorable and charming. I'm less surprised that he continues to put out the books than that I haven't seen illustrations from the books popping up as greeting cards. The second is that Brown so perfectly has an image of Star Wars in his mind and he continues to work with that. So when we see a little Han and Luke in the sandbox and Han says "Do you think your sister likes me?" and Luke says "She says you're imagining things.", on one level it's simply a cute card, but for those people who love Star Wars, it hearkens back to so much more.
Review by singerji
27/08/2015
This is the fourth collection of one-panel cartoons that Jeffrey Brown has released, with the blessing of Lucasfilm. His humor blends geeky Star Wars references with amusing-and-cute-kids episodes. A few were obscure to me, most were OK, and a few made me laugh out loud. For example, who wouldn't want to go after a pinata with a light saber? Still funny and creative, but getting a bit stale except to the hard-core fan.