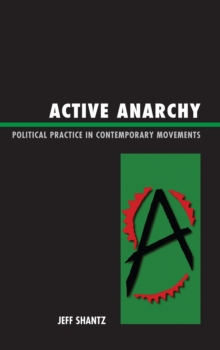 Active Anarchy : Political Practice in Contemporary Movements
Hardback
Description
Anarchism has re-emerged as one of the most important social movements of the twenty-first century.
Anarchist politics and practices provide the inspiration for growing numbers of activists within contemporary struggles in the context of neoliberal capitalist globalization.
Yet anarchism remains misunderstood, overlooked or disparaged both within popular media accounts and within works of social science.
Active Anarchy: Political Practice in Contemporary Movements offers a lively and thoughtful engagement with anarchist ideas and projects, properly situating anarchism as a vital political movement.
Written from the unique perspective of a long time participant in the projects discussed, Active Anarchy presents a compelling vision of contemporary anarchist movements, their promise and prospects.
That the reader might appreciate the complex and evolving practices of anarchists engaged in ongoing social struggles, the author focuses on a variety of organizational practices ranging from direct action tactics and shorter term actions as well as more permanent anarchist infrastructures.
Active Anarchy shows in an exciting and engaging way that despite popular misconceptions anarchist political practice poses significant challenges to statist and capitalist relations. Anarchist organizing builds upon tendencies towards mutual aid and solidarity that are present in everyday life, in order to develop a real world alternative both to capitalist and statist institutions and social relations.
At the same time anarchists challenge authoritarian forms of radical politics based on the exceptionalism of political vanguards.
The deployment of diverse, and not necessarily complementary, tactics by anarchist groups shows the richness of anarchist politics.
Active Anarchy demonstrates serious and grounded practices that draw on previous traditions and practices while also innovating and experimenting.
This is a crucial work for anyone with an interest in current social and political movements an
Information
Format:Hardback
Pages:180 pages
Publisher:Lexington Books
Publication Date:01/09/2011
Category:
ISBN:9780739166130
Also by Jeffrey Shantz