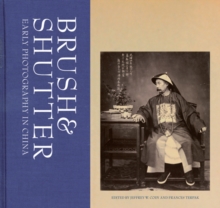 Brush and Shutter - Early Photography in China
Hardback
Description
This title offers a lavishly illustrated exploration of the history of photography in China.
Photography was introduced to China in the 1840s through the West's engagement in the Opium Wars and the subsequent reforms of Chinese statesmen.
As a result, traditional modes of expression were dramatically transformed.
Uncovered here is a captivating visual history of China during photography's first century.
Chinese export painters learned and adapted the medium of photography by grafting the new technology onto traditional artistic conventions - employing both brush and shutter.
Ultimately, both Chinese and Western photographers were witnesses to and agents of dynamic cultural change.
The essays in this volume - which cover topics from the medium's evolution, commercialisation, and dissemination to how phot0graphy helped shape China's national image - shed new light on the birth of a medium.
Information
Format: Hardback
Pages: 220 pages, 61 colour & 75 b&w illustrations
Publisher: Getty Trust Publications
Publication Date: 03/02/2011
Category: Photographs: collections
ISBN: 9781606060544