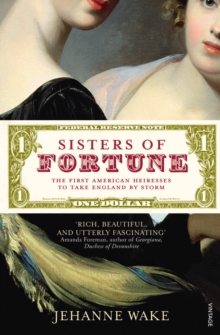 Sisters of Fortune
Paperback
Description
The first American heiresses took Britain by storm in 1816, two generations before the great late Victorian beauties.
The four Caton sisters were descended from the first settlers in Maryland, and brought up in Baltimore by their grandfather Charles Carroll, one of the Signers of the Declaration of Independence.
These Catholic Southern belleswere expected to 'marry a Plantation'.
But they were independent, fascinated by politics, clever with money, romantic in mood.
Arriving in Britain, Marianne, Louisa and Bess were swept into the set of the Duke of Wellington, who loved Marianne until his death.
In London the three sisters forged their own destinies in the face of intense prejudice, against both Americans and Catholics. (Meanwhile, Marianne's sister-in-law Betseyhad married Napoleon's younger brother Joseph, to the Emperor's fury, and found herself abandoned in Paris.)While Emily stayed at home, marrying a Scots-Canadian entrepreneur and running the Baltimore households, the widowed Marianne shocked the world by marrying the Wellington's wayward elder brother, the Duke of Wellesley, Lord Lieutenant of Ireland, and appearing as a 'Catholic Yankee' among the Protestant Anglo-Irish.
Louisa eventually became Duchess of Leeds, and a friend of Queen Victoria, while the sphere in which Bess shone was the stockmarket, as queen of speculators.
Based on intimate unpublished letters, Sisters of Fortune is a glorious book.
Everything is here -childbirth and coronets, gossip and politics, the call of faith - and, above all, the power of wealth.
This is a brilliant portrait of love between sisters and of Anglo-American relations through this period.
But it is also a most unusual story of money, of the power it gave these women, particularly over the men in their lives, and how it shaped social and even international relations round them.
Information
Format: Paperback
Pages: 416 pages
Publisher: Vintage Publishing
Publication Date: 04/08/2011
ISBN: 9780099428626
Free Home Delivery
on all orders
Pick up orders
from local bookshops