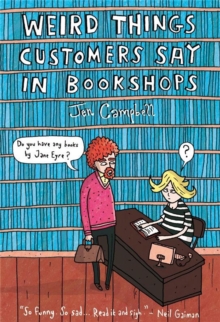 Weird Things Customers Say in Bookshops
Hardback
Description
'Can books conduct electricity?' 'My children are just climbing your bookshelves: that's ok...isn't it?' A John Cleese Twitter question ['What is your pet peeve?'], first sparked the "Weird Things Customers Say in Bookshops" blog, which grew over three years into one bookseller's collection of ridiculous conversations on the shop floor. From 'Did Beatrix Potter ever write a book about dinosaurs?' to the hunt for a paperback which could forecast the next year's weather; and from 'I've forgotten my glasses, please read me the first chapter' to 'Excuse me...is this book edible?' This full-length collection illustrated by the Brothers McLeod also includes top 'Weird Things' from bookshops around the world.
Information
Format: Hardback
Pages: 128 pages, Cartoons throughout
Publisher: Little, Brown Book Group
Publication Date: 20/12/2003
Category: Humour collections & anthologies
ISBN: 9781780334837
Other Formats
Hardback from £7.85
EPUB from £3.99
Free Home Delivery
on all orders
Pick up orders
from local bookshops
Reviews
Showing 1 - 5 of 25 reviews.
Previous | Next
Review by elliepotten
16/06/2015
This is a brilliant new collection of strange requests and customer gaffes from the world of bookselling. Split into three sections, Jen has covered her time at the Edinburgh Bookshop and Ripping Yarns in London (where she currently works), as well as collecting crackers from other booksellers all over the world for the third section, 'Weird Things Customers Say in <i>Other</i> Bookshops'.I've already read my copy cover to cover, and it is simultaneously hilarious and a little bit tragic. The illustrations, by The Brothers McLeod, are the icing on the cake. You definitely don't need to be a bookseller to appreciate the humour - just a love of books, I think! A couple of my favourite gems from the book, just to give you a flavour:~ CUSTOMER: Do you have any books by Jane Eyre?**********~ CUSTOMER: Doesn't it bother you, being surrounded by books all day? I think I'd be paranoid they were all going to jump off the shelves and kill me.BOOKSELLER: . . . **********~ CUSTOMER: Do you stock Nigella Lawson under 'Sex' or 'Cookery'?**********~ CHILD: Mum, look, it's the book of A Hundred and One Dalmatians. Can I get a hundred and one puppies?CHILD'S MOTHER: No, dear, you've already got a hamster. That's quite enough.**********Are you smiling already? Well, good! Go buy a copy! And remember - be nice to your friendly local bookseller. You never know who's listening... ;)
Review by ClicksClan
16/06/2015
I've been really looking forward to this write-up. I've been anticipating this book since last year when my friend first announced that she was getting a book published. That friend is the wonderful Jen, champion of books on HTV (a forum I frequent).Firstly, I have to say, it's very very cool to have a book which is written by someone I know. I have a book somewhere which was written by a family friend, my Grampy had a book published, I've met authors and have a little collection of signed books, but somehow this one is different. I've been bragging about it to all my friends at work, I just can't help myself. I know it's something that Jen's worked so hard for that I can't help but feel really proud of her.Anyone who has worked with the public will be able to tell you that people ask some really bizarre questions and can come out with all sorts of crazy things. As Jen as discovered, bookshops seem to attract an awful lot of weird! This book is a collection of some of the really strange things people have come out with in not only the bookshops that Jen has worked in, but shops from all over the world. No matter what your background, you can't help but nod along as you find odd little similarities between your own experiences... and perhaps a few embarrassing moments when you realise that you might have been that strange customer.The book has some fantastic illustrations in it. A selection of the quotes are illustrated with cute little pictures. In a way, I kind of wish there were more pictures; there were several quotes which I think would have made some good pictures.It was a nice quick read. I read it on the Saturday morning before we went off to pick up Tara, it would have been ideal to read at work where I could have picked it up and put it down in my breaks. Some of the quotes were familiar to me, having heard them before, but there were loads which were new as well.One thing I will definitely say, make sure you've got someone nearby when you're reading it; you just have to share it. Luckily Mr. Click was sitting next to me so I was able to read out some of the quotes to him as I went along. He actually comandeered it when I was finished; this is the man who until very recently only read books with Sherlock Holmes in them! As with me, he couldn't help but pick out favourite bits as he went along.I'm just disappointed that I wasn't able to make it to any of the events that Jen was at promoting her book. But she'll have other books coming out in the future, so I'll just have to make an extra effort to get to one of those events instead.
Review by salimbol
16/06/2015
Absolutely hilarious collection of the strange (and frequently idiotic) things people say to the long-suffering proprietors in bookstores. This was a lovely quick read, and I thoroughly enjoyed it. (And as a librarian, it came as no great surprise to see how much overlap there was with the sorts of things people say in libraries!)
Review by Carpe_Librum
16/06/2015
I've been looking forward to reading Weird Things Customers Say In Bookshops by Jen Campbell for so long, and most book-lovers will no doubt have already seen this in stores or heard about it.It's a collection of the funny, weird and bizarre comments and queries that bookish customers make in bookshops. The author Jen Campbell is a bookseller herself, so there were great contributions from her and some from other bookshops around the world.Some of the entries were brief and some more involved, but all made me shake my head, some made me laugh out loud and others just made me wonder about the public. Cartoons and graphics broke up the entries and the pages just flew by.Weird Things Customers Say In Bookshops by Jen Campbell is a short and delightful read, perfect for Christmas (sharing tidbits, leaving on the coffee table or as a stocking filler) and I recommend it to all readers, young and all. Actually Jen Campbell is shipping autographed copies all over the world at the moment, so it might be a great gift idea for your favourite book-lover. (Check out her Twitter page or blog for more info).
Review by golden_lily
16/06/2015
Hilarious. Picked this up for my former-Barnes-and-Noble-employee husband and my former-library-volunteer self and it's so sad and true. It did make me want to go back to the library, just to educate some of these poor souls.