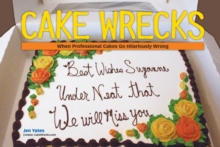 Cake Wrecks : When Professional Cakes Go Hilariously Wrong
Hardback
Description
Cake Wrecks are professionally made cakes that for some reason are unintentionally sad, silly, creepy, inappropriate, or perhaps just plain ugly.
Photos of these unwitting disasters and the hilarious commentary of blogger Jen Yates make www.cakewrecks.com one of the funniest blogs on the Web.
Free Home Delivery
on all orders
Pick up orders
from local bookshops
Reviews
Showing 1 - 5 of 19 reviews.
Previous | Next
Review by Laiane
16/06/2015
When I first discovered the Cake Wrecks blog, I spent a few hours reading the archives and giggling at Jen's wonderful word play. This book did not disappoint. There was plenty of new material and Jen's classic tongue-in-cheek commentary. It takes a lot to get me to laugh out loud (seriously). This book gave me many "LOL" moments.
Review by ladycato
16/06/2015
I can't do this book justice by trying to summarize it with words. If you love the Cake Wrecks blog, you'll love this book - which contains many favorites from the web, along with a lot of new material. I mean, it just wouldn't be a Cake Wrecks book without mohawked carrot jockeys and cakes inscribed with 'It A Girl' and 'I Want Sprinkles.' Jen's commentary is spot on, as always. I loved when she mentioned that she loved the British show "Are You being Served?", which probably explains why my sense of humor matches hers so well.Love the blog, buy the book. Love baking? Buy the book. Or as in my case, buy the book for myself, and another to give as a Christmas present. Also works as a "Berfday" gift.
Review by zzshupinga
16/06/2015
Cake Wrecks the blog is one of the funniest on the web. Not just because of the absolutely hilarious ways "professional" cake decorators can get it wrong, but because of Jen's funny commentaries to go along with it. And this book captures all of that in a portable format to die laughing of. Although the book captures some of the best of the blog (the jockey riders for instance) it has enough new content and commentary to keep you rolling in the aisles for hours on end.If you've never read the blog (why the heck not???) you can still pick up the book and enjoy it just as much as fans of the blog. A must have for those times when you're feeling down
Review by kayceel
16/06/2015
I love the CakeWrecks blog, and recommended my brother buy the book for our mom for Christmas. My gain, as I was stranded at my parents' for an afternoon alone, and picked this up.While there are a few blog favorites in the book (more to establish the tone), there are tons of new wrecks, along with Jen's snarky commentary. This is a great, fun book to keep around for guests (plus, you'll get many a laugh yourself). And I dare you not to turn into a CakeWreck Investigator yourself!Recommended.
Review by cannellfan
16/06/2015
I found Cake Wrecks to be only slightly more than mildly amusing. I'm a big fan of the books by James Lileks in this same vein, including both "The Gallery of Regrettable Foods" and "Gastroanomalies". Though Yates' book attempts to capture the same sort of sarcastic, "what were they thinking" humor, I found that it fell a bit short. I do enjoy following the Cake Wrecks blog, though. In the end, though I enjoyed Cake Wrecks, the hardback book seemed a bit pricey for what you get. Stick with the online blog and watch for this one in trade paperback (or check it out from your library, if they have it).