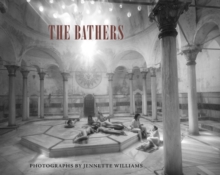 Description
Jennette Williams's stunning platinum prints of women bathers in Budapest and Istanbul take us inside spaces intimate and public, austere and sensuous, filled with water, steam, tile, stone, ethereal sunlight, and earthly flesh.
Over a period of eight years, Williams, who is based in New York City, traveled to Hungary and Turkey to photograph, without sentimentality or objectification, women daring enough to stand naked before her camera.
Young and old, the women of The Bathers inhabit and display their bodies with comfort and ease-floating, showering, conversing, lost in reverie.To create the images in The Bathers, Williams drew on gestures and poses found in iconic paintings of nude women, including tableaux of bathers by Paul Cezanne and Auguste Renoir, renderings of Venus by Giorgione and Titian, Dominique Ingres's Odalisque and Slave, and Pablo Picasso's Les Demoiselles d'Avignon.
By alluding to these images and others, Williams sought to reflect the religious and mythological associations of water with birth and rebirth, comfort and healing, purification and blessing.
She also used copies of the paintings to communicate with her Hungarian- and Turkish-speaking subjects-homemakers, factory workers, saleswomen, secretaries, managers, teachers, and students.
Working in steam-filled environments, Williams created quiet, dignified images that evoke not only canonical representations of female nudes but also early pictorial photography.
At the same time, they raise contemporary questions about the gaze, the definition of documentary photography, and the representation and perception of beauty and femininity, particularly as they relate to the aging body.
Above all else, her photos are sensuously evocative.
They invite the viewer to feel the steam, hear the murmur of conversation, and reflect on the allure of the female form. A CDS BookPublished by Duke University Press and the Center for Documentary Photography
Information
Format: Hardback
Pages: 72 pages, 44 photographs
Publisher: Duke University Press
Publication Date: 01/12/2009
Category: Photographs: collections
ISBN: 9780822346234
Also in the Center for Documentary Studies/Honickman First Book Prize in Photography series | View all