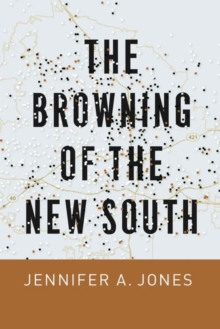 The Browning of the New South
Hardback
Description
Studies of immigration to the United States have traditionally focused on a few key states and urban centers, but recent shifts in nonwhite settlement mean that these studies no longer paint the whole picture.
Many Latino newcomers are flocking to places like the Southeast, where typically few such immigrants have settled, resulting in rapidly redrawn communities.
In this historic moment, Jennifer Jones brings forth an ethnographic look at changing racial identities in one Southern city: Winston-Salem, North Carolina.
This city turns out to be a natural experiment in race relations, having quickly shifted in the past few decades from a neatly black and white community to a triracial one.
Jones tells the story of contemporary Winston-Salem through the eyes of its new Latino residents, revealing untold narratives of inclusion, exclusion, and interracial alliances.
The Browning of the New South reveals how one community's racial realignments mirror and anticipate the future of national politics.
Information
Format: Hardback
Pages: 336 pages
Publisher: The University of Chicago Press
Publication Date: 20/02/2019
Category: Urban communities
ISBN: 9780226600840