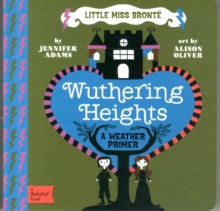 Little Miss Bronte : Wuthering Heights
Board book
Part of the BabyLit series
Information
Format: Board book
Pages: 22 pages, Colour Illustrations Throughout
Publisher: Gibbs M. Smith Inc
Publication Date: 01/02/2013
Category: Picture storybooks
ISBN: 9781423631736
Free Home Delivery
on all orders
Pick up orders
from local bookshops
Reviews
Showing 1 - 3 of 3 reviews.
Review by nmhale
16/06/2015
While I continue to profess my complete admiration for the BabyLit series, this one is my least favorite of the four I have read. Which is odd, because I love the novel that inspired the board book. Wuthering Heights is an intense, dark, atmospheric, and powerfully constructed novel. I was curious about how they would adapt it for toddlers, because this is one story that is definitely not child-friendly. The board book is appropriate, however. The authors chose to focus on weather, which is a great decision because the original story is very linked with weather and atmosphere. Each two-page spread has a weather word on the first page and a quote from the book on the facing page. The accompanying illustrations show scenes from the book that match the weather. Also, as in previous installments in this series, the book is full of little details that conjure up the original. For instance, the date and initials on the door (I had to look up the book on Wikipedia to remember why these were important, and I've read the novel three times), Catherine riding to the Linton's in a carriage marked with an L, and so on. Children won't know what these touches refer to, but it won't detract from their enjoyment, either, because they are so organically incorporated into the illustrations.The weather progresses from breezy and sunny to ever darker and more ominous weather, ending with a still black night. Considering the plot of Wuthering Heights, this is phenomenal. However, I love this book partly because the ending offers a ray of light in the hope of redemption, which washes away some of the bitterness of the story. Also, although Heathcliffe and Catherine are clearly in love, this is not a love story, and their love is not healthy. It bothers me when other sources emphasize their romantic love as the key to the story, as this ending does. These are admittedly personal inclinations, but they influence my rating, and are the reason this book doesn't compare as well for me. Even with these drawbacks, I still consider it a great board book. Don't overlook this series, it is wonderful.
Review by Jcambridge
16/06/2015
I love the entire series of classics for preschoolers and early readers as much as my 2-year-old granddaughter -- If you have kids or grandkids, these are a great addition to your home library and will get children interested in the classics from an early age. Each has a different educational element to it:Little Miss Austen: Pride and Prejudice is a counting primer Sense and Sensibility is a an opposites primerLittle Miss Bronte: Wuthering Heights is a weather primerLittle Master Conan Doyle: Sherlock Holmes in The Hound of the Baskervilles is a sounds primerLittle Master Kipling The Jungle Book is an animals primerLittle Master Carroll Alice in Wonderland a colors primer
Review by MCHBurke
27/01/2016
I love this idea for a weather primer. This enchanting little book is all about the atmosphere around Mr. Heathcliff's dwelling. No plot or characters to speak of (except those hinted at in the drawings), but instead a focus on weather conditions with quotes from the novel.