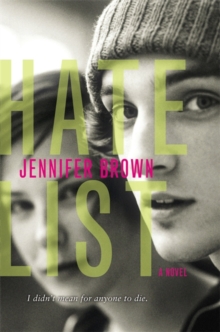 Description
5 months ago Valerie Leftman's boyfriend opened fire on their school cafeteria, killing five students and one teacher before turning the gun on himself. Valerie, who was shot trying to stop him, is initially implicated in the shootings because of the hate list she helped create. The hate list her boyfriend used to pick his targets.As Valerie integrates back into school, more of an outsider than she ever thought she was before, she is forced to confront her feelings of guilt and loneliness. Exploring the gray area between hero and villain, she navigates the rocky relationships with her family, her former friends, with the memory of the boyfriend she still loves, and with the girl whose life she saved five months ago. As she moves toward graduation and the year anniversary of the shooting, Valerie must come to grips with the tragedy that took place and her role in it all in order to make amends and move on with her life.
Information
Format: Paperback
Pages: 416 pages
Publisher: Little, Brown & Company
Publication Date: 05/10/2010
Category: General
ISBN: 9780316041454
Free Home Delivery
on all orders
Pick up orders
from local bookshops
Reviews
Showing 1 - 5 of 21 reviews.
Previous | Next
Review by sensitivemuse
16/06/2015
The writing in this book is amazing and well done. There are flashbacks, and it goes back and forth. We get when Valerie and Nick are in love, and they share their hate list. Then, fast forward to the present, and Valerie deals with the consequences of the hate list, memories, and tries to overcome her guilt. It doesn't help that her life at home isn't so great either. Overall throughout the book it just felt like Val's got the real short end of the stick here. It's hard not to be against her, instead you feel sympathy towards her even though her behavior was frustrating at times. Nick, although understandably hated because of what he's done, is somewhat painted in a sympathetic light. He was bullied, just like Val, and some of the treatment he gets does make you want to punch his tormentors in their faces. However he's a very explosive individual and you can feel his anger and resentment.It's hard not to feel angry towards Nick and Val's bullies. Some of them were just so nasty a small part of you feels they deserve a good slap in the face (Christy was the one I hated the most she was a horrible nasty creature) even after the shooting, some of Val's classmates still acted like jerks to her you'd think they get the hint and just leave her alone. Apparently, they don't and you'd have to wonder if the cycle would repeat.I also hated Val's dad. Wow, what a selfish chit. I'd understand it's probably really hard to go through something and realize your child could possibly be a cold blooded killer, but he just did a complete turn around and was more preoccupied with himself and his nice new trophy girlfriend. It was just sickening. This was where I really felt for Val. She just lost her entire support network and had no one to rely on. On the other hand, this is where I really admired Jessica's behavior. Despite being a previous tormentor of Val's, she realized her actions and attempted to reach out to her, which I thought was the right thing to do and very brave of her to do so in front of her peers and the rest of the community. I definitely recommend this book to anyone it's a great read, it's so well written you feel the emotions of the characters and it brings out a lot of conflicting emotions within the reader. It's well worth the read considering the subject matter.
Review by gubry
16/06/2015
Life changes when Valerie's boyfriend Nick opens fire at school. Valerie stopped Nick from killing a classmate and got wounded in the process. Due to her part in creating the Hate List, many believe that she is to blame for what happened as well.This was on my to-read list for a long time and I had a feeling that once I'd read this, I'd really enjoy it. And from my review, you can tell that I enjoyed it. A lot.It wasn't a mind-blowing novel for me, but it was a thought provoking one. The story was nicely written as the characters felt very realistic. At times I wanted to reach into the book to hug a character, scream at a few, or at the very least, strangle two particular characters which is saying a lot. Hate List is a very powerful novel that I particularly enjoyed a lot, and it kept me reading without stopping to put it down. I enjoyed almost everything in it and I wouldn't mind re-reading it again and again. So it's a favorite. I do find it strange though, that Valerie decides to re-enter her high school and not change schools. Because, it doesn't really seem like a good idea. Nevertheless, this didn't ruin my reading for this one. The book was a great take on a hard topic.
Review by amusingmother
16/06/2015
This is the most real Young Adult book I have ever read. It may even be the most real book I have ever read. The author touches on so many different aspects of Valerie which resonates with the human heart. Valerie and her story are so multi-dimensional. Without giving anything away, I'll recap.Valerie is a girl who finds herself on the fringes of acceptance. She's not alone and gravitates to a particular group, especially a boy named Nick. Together they have inside jokes, places they go, memories that belong only to them. One one angry day, Valerie starts writing down people and things she hates. It's innocent enough and Nick buys into it, too. They add to the notebook day by day. Over the years, Nick and Valerie become closer and share some happy times together along with some hard times.One day, Valerie, feeling like Nick was drifting from her, meets up with him before school. She's angry because one of the bullies on the bus broke her MP3 player. Nick says something "Nick-like" and Valerie feels validated and like he's standing by her. He approaches the perpetrator, calls her out, then, with Valerie standing by, he opens fire. In the process, Valerie is shot in the leg and Nick fatally shoots himself.Valerie started the HATE LIST. Did she know Nick was not joking when he'd talk about death, his own and those they hated? How much culpability does she carry? Did he do it for her? He's gone now and she's not. The community's belief in safety, shattered. Will they blame her? Is she angry at Nick for leaving her? Can she still love the one who hated so much? Can she love and forgive herself? Can others love and forgive her? Who is the media and what are they saying? Is the media perpetrating or healing the damage?The author adds the family dynamics and the fallout that is so plausible. Each parent provides a different personality and perception that is also multi-dimensional. Incredibly, the author is capable of painting each main character as neither good nor bad, complete nor devoid. Valerie and her reality is so engaging, I immersed myself as completely as possible into this world.I didn't find that the author had a particular agenda. It's not about stopping bullies but telling a story. It's an incredibly well written novel. I will be thinking about it and mulling it over in days to come.
Review by abbylibrarian
16/06/2015
Valerie created the Hate List, a list of people and things that she hated, including the kids who bullied her and her boyfriend Nick. When Nick opened fire on their classmates, killing several students and a teacher, Valerie was implicated in the crime, even though she was the one who stopped the massacre, getting herself shot in the process. Now, she's returning to her school, a school that's supposedly mended its ways and embraced forgiveness. Only, everything's the same. And everything's different. And Valerie just has to figure out how to live with what happened. I picked up this book and Could Not Put It Down. It's utterly compelling and a fascinating look inside a tragic event. Highly recommended.
Review by CardCatalogue
16/06/2015
A riveting, heart-wrenching story. I was gripped by the rawness of Valerie's pain and thoughts as I read The Hate List. I found the story compelling and believable and cried whole-heartedly at the end of the novel.