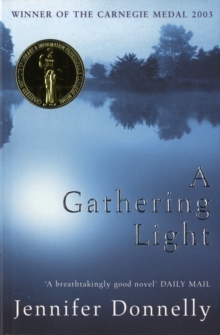 A Gathering Light
Paperback
Description
When mattie Gokey is given a bundle of letters to burn she fully intends to execute the wishes of the giver, Grace Brown.
When Grace Brown is found drowned the next day in Big Moose Lake, Mattie finds that it is not as easy to burn those letters as she had thought. And, as she reads, a riveting story emerges - not only Grace Brown's story but also Mattie's hopes and ambitions for the future and her relationships with her friends and family.
Published to widespread acclaim this wonderful novel, part murder mystery and part coming-of-age story, is an astounding and accomplished piece of literature.
The reviews say it all...
Information
Format: Paperback
Pages: 400 pages
Publisher: Bloomsbury Publishing PLC
Publication Date: 03/05/2004
ISBN: 9780747570639
Other Formats
Hardback from £6.99
EPUB from £7.59
Free Home Delivery
on all orders
Pick up orders
from local bookshops
Reviews
Showing 1 - 5 of 12 reviews.
Previous | Next
Review by LibraryLou
16/06/2015
This is a brilliant novel that unravels the mystery of a murdered woman , while telling the story of Mattie, a girl desperate to escape the life she is forced to live. Based on a true story.
Review by arden47
16/06/2015
Well-researched and written book, completely captivating.
Review by phoebesmum
16/06/2015
Heavily hyped and, I was distressed to find, a Richard-and-Judy rec. No better than average: painstaking in historical detail, and very eager that the reader should know that.
Review by SmithSJ01
16/06/2015
A fantastic piece of writing that I enjoyed immensely. The blurb talks about it being based on a real murder at the turn of the century – this is at the start of the 1900s. The person murdered is a young girl who is read about by Mattie through her letters. Mattie wants to become a writer and is great friends with Weaver who is an academic like herself. Naturally her teacher becomes her greatest influence and Mattie would do anything to be able to read more material and write. Or would she? Her life is mapped out for her already – live in the neighbourhood, acquire a husband and children and in the meantime continue to look after her own family. I enjoyed reading about Mattie's life and the decisions she made. The reader always feels involved, almost as if Mattie has consulted you. I loved her teacher and I really felt for her later on in the novel; there was something about Donnelly's writing style that evoked real emotions concerning the teacher, Miss Wilcox. Mattie's determination is fabulous, I could see her every morning taking down the big dictionary that had belonged to her mother and choosing the word for the day. The letters Mattie reads have a powerful effect on her, and on the reader. We learn a lot more about Mattie through these letters. The lives of the murdered girl and Mattie become entwined and when Mattie learns about how she has drowned it is only then that she makes her final decision. I would not be able to do justice in a review to the quality of writing. I actually sat for four hours to read this book as I genuinely did not want to put it down and miss a minute. I could just have easily started straight again from the beginning and found other clues as to paths Mattie could have taken. I thought the relationship with her friend Weaver was beautifully written and the heartache he goes through is shared by her. She is a wonderful character with many strengths, it would be nice to read a sequel to her life. For those interested in the actual murder that is the basis for the novel, there is information about it at the back, with some notes from the author.
Review by Fluffyblue
16/06/2015
I enjoyed reading this story, which was based around a real murders at the turn of the 20th Century. The main character, Mattie (Mathilda), was very likeable. She loved books and had been accepted to Barnard. The story is about the difficulties she experiences being female and wanting to be more than just a farmer's wife. To add to her problems, her mother died and she had promised her that she would look after the family.Throughout the book there are many different characters, the main ones being Weaver Smith and Royal Loomis. Both are very different, Weaver being black and in common with Mattie, being a scholar with a place at Columbia. Mattie falls 'in love' with Royal, who plans to be a farmer. He is not the most likeable person, and you can see that he is using Mattie in order to get to her father's land.The book was easily digested and the characters, including some of the minor ones, well set out, and definitely one I would recommend reading.I think this book is called "A Northern Light" in the US.