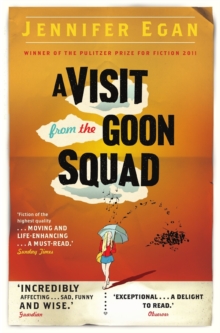 A Visit from the Goon Squad
Paperback
Description
Jennifer Egan's spellbinding novel circles the lives of Bennie Salazar, an ageing former punk rocker and record executive, and Sasha, the passionate, troubled young woman he employs.
Although Bennie and Sasha never discover each other's pasts, the reader does, in intimate detail, along with the secret lives of a host of other characters whose paths intersect with theirs, over many years, in locales as varied as New York, San Francisco, Naples, and Africa.We first meet Sasha in her mid-thirties, on her therapist's couch in New York City, confronting her long-standing compulsion to steal.
Later, we learn the genesis of her turmoil when we see her as the child of a violent marriage, then a runaway living in Naples, then as a college student trying to avert the suicidal impulses of her best friend.
We meet Bennie Salazar at the melancholy nadir of his adult life-divorced, struggling to connect with his nine-year-old son, listening to a washed up band in the basement of a suburban house-and then revisit him in 1979, at the height of his youth, shy and tender, revelling in San Francisco's punk scene as he discovers his ardour for rock and roll and his gift for spotting talent.
We learn what became of his high school gang-who thrived and who faltered-and we encounter Lou Kline, Bennie's catastrophically careless mentor, along with the lovers and children left behind in the wake of Lou's far flung sexual conquests and meteoric rise and fall.A Visit from the Goon Squad is a book about the interplay of time and music, about survival, about the stirrings and transformations set inexorably in motion by even the most passing conjunction of our fates.
In a breathtaking array of styles and tones ranging from tragedy to satire to Powerpoint, Egan captures the undertow of self-destruction that we all must either master or succumb to; the basic human hunger for redemption; and the universal tendency to reach for both-and escape the merciless progress of time-in the transporting realms of art and music.
Sly, startling, exhilarating work from one of our boldest writers.
Information
Format: Paperback
Pages: 368 pages
Publisher: Little, Brown Book Group
Publication Date: 01/06/2011
ISBN: 9781780330969
Free Home Delivery
on all orders
Pick up orders
from local bookshops
Reviews
Showing 1 - 5 of 11 reviews.
Previous | Next
Review by birdsam0610
16/06/2015
A Visit from the Goon Squad seems to be appearing everywhere at the moment. When the Goodreads Book Club announced it as their original book, I thought I would take part and see what the hype was about. This book has won numerous awards, including the Pulitzer Prize for Fiction. While the book is innovative, telling each story in a variety of styles (hello, chapter told entirely in PowerPoint), it just didn't really work well enough for me.The first chapter is straightforward enough, telling the story of Sasha, who is a compulsive kleptomaniac. She also has a bath in the kitchen of her apartment (that's odd to me). Sasha then disappears into the background for the rest of the book. It is unusual to have a character introduced in the first chapter, then only see fleeting glimpses of them, but hey, I'll roll with it for now…Chapter Two introduces Bennie, Sasha's boss. He's old, trying to restore vitality by eating gold flakes. He also tries to come on to Sasha. I didn't feel any sympathy for Bernie here.Chapter Three is told by Rhea, Bernie's childhood friend. (See how we're drifting away from Sasha, but loosely linked?) Rhea uses the word 'goes' far too much in this chapter for my liking. Is it to demonstrate her youth despite her presence on the punk rock scene? This read awkwardly for me, perhaps it was trying to represent the teenage years.Chapter Four involves the use of a 'time telescope'. It takes place on an African safari and introduces some new characters, namely Rolph and Mindy. We also find out in this chapter what will happen to each of these characters in the future. Killing the suspense or just dispensing with minor characters? I found this one of the better written chapters.Chapter Five deals with age and Jocelyn returns as the main voice. We see the aging of Lou, Bennie's original manager/guru and compare it to Jocelyn and Rhea's aging. Were they successful or failures? Who are we to judge? I felt this chapter focused on regret, although I note that others felt it was more about redemption.Chapter Six brings one of Bennie's teenage friends, Scotty to the fore. He's a flawed but likeable character. He gives Bernie, who seems wildly successful, a freshly caught fish for a present. I didn't try to understand the symbolism of this, nor of his compulsive dry cleaning of his jacket.Chapter Seven represents the B side (or second half) the book – that's in record terms, kids. This was another enjoyable chapter for me, revolving around Bennie's wife of the time, Stephanie. She's trapped in a wealthy, conservative suburb and feels stifled. Bennie is also out of his depth here but copes with it differently. I saw some of Betty Draper in Stephanie here.Chapter Eight brings two briefly mentioned characters to the fore – La Doll and Kitty. This was a quirky chapter and I enjoyed the moving away from some of the recurring characters. It was also more humorous and desperate than previous chapters.Chapter Nine is written as an article by Jules, another character mentioned briefly prior to this chapter. The subject is an uncomfortable one – about how he attacks a film star (Kitty from the previous chapter), but we know that he's unwell mentally. The article read like a long stream of consciousness and did very well I thought about catching the state of Jules' manic mind. The footnotes are especially troubled and show his lack of insight.I can't say that I enjoyed Chapter 10. This deals with Sasha's (remember her?) friend Rob and how he meets his death. (We knew he was dead from the first chapter). It uses second person narration, which I can't say I'm fond of.In Chapter 11, we finally see Sasha again, but in the past. Her uncle has been sent to find her, but is quite lazy about the whole process and meets her at random. This was about finding something you don't expect.Chapter 12 is The Great Powerpoint Chapter. Told entirely in slides, it makes more sense than you think. I thought it was good (I got the gist of the story with very few words). We see Sasha again – this time in the future – which probably endears the reader some more. Some have criticised the ability to read this on eReaders, but I had no problems with my Sony (I use it for lectures anyway).Chapter 13, the final chapter, was a letdown for me. Set again in the future, it involves people being so reliant on technology that they find it embarrassing to speak face to face. We see more recurring characters – some in odd situations and the introduction of text speak. This was one of my least liked chapters.While it uses interesting devices, this book requires you to be vigilant in regards to remembering characters and details. I think I've understood as best as I'm going to by reading this review. This is one for the English class to study.
Review by readingwithtea
16/06/2015
"Time's a goon, right? Isn't that the expression?"As I find myself completely unable to understand this book, the summary comes from the back cover:A Visit from the Goon Squad vividly captures the moments where lives interact, and where fortunes ebb and flow. Egan depicts with elegant prose and often heart-wrenching simplicity, the sad consequences for those who couldn't fake it during their wild youth - madness, suicide or prison - in this captivating, wryly humorous story of temptation and loss.I've seen at least 20 great reviews of this book (linked at the bottom of this page), and I know it's been short-listed for a gazillion prizes and won quite a few of them (NBCC 2010, Pulitzer 2011, longlisted for Orange 2011), and I just don't get it.The characters are certainly vivid - Sasha, the kleptomaniac; Bennie, the sad middle-aged producer who seems intent on giving himself and his son heavy metal poisoning; La Doll, the misfortunate publicist extraordinaire and Lulu her daughter... but they were all unlikeable and unsympathetic - so set on being different, being "those who couldn't fake it". I didn't want any of them to get out of their predicaments, I didn't feel sorry for any of them.The way Egan weaves these interlinked short stories together, moving back and forth through time and characters and media (including the now infamous Powerpoint chapter, 75 Powerpoint slides of Sasha's daughter's thoughts - I thought it was actually rather good, certainly unusual and absorbing), is clever and I like the idea (much as I enjoyed the linked vignettes of One Day). I just wish she'd used more likeable characters. Plot is near to non-existent - just some miserably parochial occurrences in the lives of the indifferent.What did I miss that was so spectacular? So polarising? So prize-winning?
Review by roblong
16/06/2015
Didn't go for this, on the most part. First third was pretty poor, and while it picked up (it's a bunch of interconnected short stories really, with some better than others) to an extent, I was never really in to it. On the whole I found that the sections weren't involving enough - I didn't care enough about most of the characters to be excited that a minor character from Chapter 2 is now the main character of Chapter 8, and without that grip the references to previously mentioned characters are more irritating than enlightening (Drew? Who was he? Oh yeah, I remember...kind of). Sometimes it was funny and I enjoyed a couple of chapters, including one which is a powerpoint presentation by a young character who can't be bothered to write 'properly' - that was the best section of the book for me. The ending was also pretty nice. But while the structure and basic idea of the book is a good one, the individual chapters just weren't strong enough, and the book really needed them to be if it was going to work as a whole.
Review by dmsteyn
16/06/2015
A curious book, both well-written and moving, but also sometimes perplexing. I liked the fact that the book challenges some time-honoured novelistic conventions, but these challenges to literary customs sometimes led to a disjointed feel. The book is certainly interesting and unusual in its structure, but does not let these postmodern tricks get in the way of an engaging and delightful story.The book deals with a large cast of characters, each connected to the others through a six-degrees-of-separation kind of synchronicity. Each chapter of the book is a bit like a short story, in that they seem to stand on their own, but there is a definite progression through the book that lends it a coherence that might seem to be missing initially. With each new chapter, one feels a little disoriented, as the characters at first seem to have nothing to do with the previous chapter's cast. But, gradually, one realises that there are tangential connections between the characters in each chapter. Often, Egan makes a character who was very marginal or only briefly mentioned in a previous chapter, the focus point of the new chapter. As I mentioned, this lends a disjointed feel to the novel – not necessarily a bad thing. Egan manages to deftly interweave the different strands of her story, even if the ending of the book seemed far-fetched to me. A personal quibble.I found most of the experimental writing interesting. Egan has a whole chapter presented in the form of various charts, which is supposedly the way in which future generations will post things on the Internet. Hmm, possibly, but unlikely. In any case, this kind of speculation adds to the interest of the novel. And, although I am a bit more of a traditionalist (with a dislike for pictures in novels – I'm looking at you, Incredibly Loud and Extremely Close), this seemed to work better than most attempts at introducing other media into novels. I also found the references to the music industry fairly enlightening and absorbing.Did it deserve the Pulitzer? Dunno. I liked it. It has definite humour, but also gravitas and an emotional core. Even if you do not like postmodern smoke and mirrors, this book has enough else going for it to be worth at least a dip.
Review by ten_floors_up
16/06/2015
This puts me a bit in mind of a portmanteau film, though they usually are the works of different directors on a theme, rather than one person. Interesting and worth a read, if a bit self-conscious at times. I read this as a library discard copy, and came to it without knowledge of the hype/awards at time of release The cover does make that side of things plain, which is a bit ironic considering some of the content. The powerpoint chapter irritated me, but I guess could see the point of it even as a confirmed Powerpoint-hater.