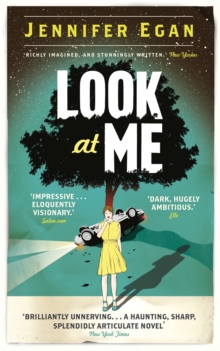 Description
Reconstructive facial surgery after a car crash so alters Manhattan model Charlotte that, within the fashion world, where one's look is oneself, she is unrecognizable.
Seeking a new image, Charlotte engages in an Internet experiment that may both save and damn her.
As her story eerily converges with that of a plain, unhappy teenager - another Charlotte - it raises tantalizing questions about identity and reality in contemporary Western culture.Jennifer Egan's bold, innovative novel, demonstrating her virtuosity at weaving a spellbinding, ambitious tale with language that dazzles, captures the spirit of our times and offers an unsettling glimpse of the future.
Information
Format: Paperback
Pages: 528 pages
Publisher: Little, Brown Book Group
Publication Date: 01/09/2011
ISBN: 9781780330990
Free Home Delivery
on all orders
Pick up orders
from local bookshops
Reviews
Showing 1 - 2 of 2 reviews.
Review by Yarrow
16/06/2015
I bought this just after finishing 'A visit from the goon squad' and I was just as impressed. Basically three individual stories are tangentially connected, nevertheless each one gripped me in different ways. Older Charlotte is an ex-model who has reconstructive facial surgery after an accident and becomes desperate when none of her old acquaintances recognise her - desperate enough to sign up to a truly invasive Internet scheme. This was my favourite strand even though Charlotte herself isn't very likeable. Younger Charlotte is restless in her teenage life and has an affair with an older man to try and quell her restlessness - I thought that this Charlotte was drawn really well and was an entirely believable, if unusual, teenager. Finally there's the middle eastern terrorist who plans to bring down America from the inside, but ends up being sucked further and further in.This book was written in 2001, before 9/11 and before so much of our lives began to be lived online. As a result it feels alternately naive and prescient. The character of the terrorist is less believable now in a post 9/11 world but he is sympathetically drawn and his journey is comically bleak at the end. Similarly the 'real-life' Internet experiment that Charlotte takes part in is all too familiar now - the only detail strange to us is how much money she gets paid for sharing her life online. Not only is Jennifer Egan a brilliant writer who manages that rare combination of readable and well-crafted prose, she seems to have predicted the future. 10 years on, this still feels like a book that is of our time and well worth a read today.
Review by adzebill
16/06/2015
Prescient, given it was written before 9/11. An exploration of identity in modern America, especially in the age of the internet. Some of the best depictions of loss of identity, or the transistion from one to another, that I've read. An engaging, enjoyable read.