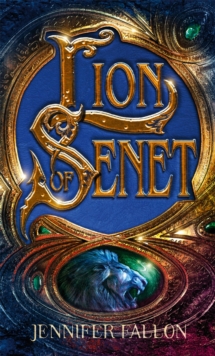 Lion Of Senet : The Second Sons Trilogy, Book One
Paperback
Description
Life has been good on the world of Ranadon, illuminated both day and night by the light of its greater and lesser suns.
The dark ages were banished by Belagren, High Priestess of the Shadowdancers and her political position seems unassailable.
However, a series of events escalate, breaking old alliances and breeding new and deadly rivalries.
A volcanic eruption divides the seas between the kingdoms of Senet and Dhevyn, and an ill-omened sailor is thrown onto the island of Elcast.
His arrival is a catalyst - baring old hatreds and secrets best left hidden.
He brings fear to the Duke of Elcast and Antonov, the influential Lion of Senet is drawn to the island.The second sons of these powerful individuals develop a strong friendship, but it may not survive events set in motion by their ambitious families ...
Information
Format: Paperback
Pages: 576 pages
Publisher: Little, Brown Book Group
Publication Date: 01/10/2005
Category: Fantasy
ISBN: 9781841493510
Free Home Delivery
on all orders
Pick up orders
from local bookshops
Reviews
Showing 1 - 2 of 2 reviews.
Review by wyvernfriend
16/06/2015
In a different world where two suns keep away the dark and the leader of the religion claims she and the goddess are responsible.Dirk Provin is leading a happy if mundane life until his life is claimed by the Lion of Senet. But why does the Lion want him? A book that starts off slow but builds into a very interesting story.
Review by lewispike
16/06/2015
It would be really easy to dismiss this book as standard fantasy fare, particularly if you start with the villains who are blacker-than-black bad through and through. There's the power-crazed priestess, the insane expansionist king manipulating everyone in a way that Machiavelli would endorse and so on. But these characters are saved from caricature by their relationship to each other and the king's relationship with his children.The heroes, on the other hand, are a much more mixed group - you would have to say there's no one who is whiter-than-white pure as the driven snow. They do despicable things, or hate, or hold massive grudges and yet they do brave, tender, caring things too. They're flawed and much more real for it, and they probably need that unremitting badness from the villains to come out looking like heroes.The story itself isn't actually hugely complicated - this is much more character driven story telling than a massively convoluted plot - although there are twists in the story thanks to the characters that are both fun to read and deftly handled. Just a few more of them and I would have gone higher than 4 stars. As it is, I'm looking forward to reading book 2 in the series and seeing how all these characters keep going.
Also in the Second Sons Trilogy series | View all