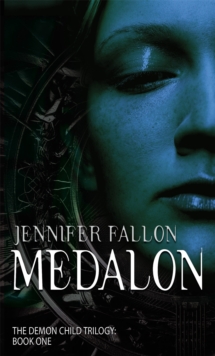 Medalon : Book One of the Demon Child Trilogy
Paperback
Description
The Sisters of the Blade rule Medalon, with an army of elite Defenders to enforce their oppressive rule and keep bordering nations in check.
Overseeing all is First Sister Joyhinia. She lives for politics and power and will let nothing come between her and greatness - even her children.
So when R'shiel and her half-brother Tarja are caught on the wrong side of one of their mother's schemes, they are forced to flee the capital.
Travelling as exiles they see the full extent of the Sisterhood's oppression, and begin to hear rumour of the lost offspring of the legendary Lorandranek, a demon child who will unite the people and vanquish tyranny forever.MEDALON is the first volume in a stunning new high fantasy trilogy from an author of extraordinary talent and boundless imagination.
Information
Format: Paperback
Pages: 624 pages
Publisher: Little, Brown Book Group
Publication Date: 06/05/2004
Category: Fantasy
ISBN: 9781841493268
Free Home Delivery
on all orders
Pick up orders
from local bookshops
Reviews
Showing 1 - 3 of 3 reviews.
Review by wyvernfriend
16/06/2015
Interesting and a good read once you get past the first about 100 pages. It's pretty much an Alien living hidden in human society story. R'shiel is different, feels different, her mother is a political animal who won't let anything, even her children stand in the way of her ambitions. Her son, Tarja, is a captain on the front-lines, protecting the Sisterhood's society from the god worshipers. The gods have plans tho and they involve both of these people, who turn out not to really be brother and sister. Yeah kinda spoilerish but it's pretty telegraphed from the start.Obvious first novel, screamingly obvious, and possibly a good editor would have tightened the first few chapters up to make it flow smoother and got the punters into the story quicker. Also the relationship developing into love between Tarja and R'Shiel, WTF? I have a foster sister, now granted she is my cousin but NEITHER of my brothers would even think of someone brought up from early on as ANYTHING other than a sister. Shame on the Goddess of Love for that squick.
Review by littlebookworm
16/06/2015
I didn't really find anything special about this book, unfortunately. It was a reasonably good read, typical fantasy. I think Ms. Fallon's prose could use a lot of improvement. I hope the next one absorbs me a bit better. I didn't really feel any attachment to the story or characters, and am merely mildly curious as to what happens next. I think I'd prefer if the characters had more dimensions - Joyhinia, for example, is just pure evil, as is Loclon. The rebels are basically all good, and much too easily convinced to be real. Maybe some of the characters will flesh out in the next novel.
Review by cedargrove
16/06/2015
Imagine if you will a country in which division of 'church' and 'state' is absolute. In fact, in which, in times past there was a secular campaign to drive out any and all association to faith and rule of law in anything other than the state. Thus you have the province of Medalon. Ruled by a twofold organisation, the 'Sisterhood of the Blade' and the 'Defenders' The male and female ruling and policing hierarchy… where the First Sister's rule is law, and the Lord Defender's sword (and those of his men) protect her right to rule.Now picture this province being sandwiched between the 'Monotheistic' Kariens in the north, and the Pagan Hythrian and Fardohnyans in the south, add in a pinch of pagan resurgence in the province itself, and you have a recipe for disaster that's simply divine, (pun intended!)All is not well in the peaceful province of Medalon. The ordinary citizens are unhappy (yes, yes, you expected to hear that the peasants are revolting, didn't you?) It's all because the cliché that power corrupts and absolute power corrupts absolutely just happens to prove very true within the Sisterhood, where the First Sister is so blinded by her own arrogance that she plays right into the hands of those that would see their own agenda furthered, their own supremacy secured… and caught in the middle of it all, two unsuspecting youngsters – who just happen to be 'related to' the First Sister herself. You'll excuse my language, I hope, but she really is a ruthless bitch.What I both loved, and loathed about this novel, the first in <u>The Demon Child</u> trilogy, is that there's no relief or salvation by deus ex machina – because whenever the gods <i>do</i> intervene, it just causes a whole heap more trouble for the poor protagonists. It's gritty, it's dark – though with enough humour scattered around so as not to drive the reader toward suicidal thoughts – and a refreshing work of fantasy where magic stays, for the most part, in the background, and it's the schemes and struggles of the ordinary people that provide the joys and pains of the story. The treatment of the 'gods' and 'demons,' and a race of demi-humans called the Harshini, (a peaceful race that used to live in Medalon until the Sisterhood drove them out, who provide an interesting balance within the novel,) is very interesting. It could be the subject of a debate all of its very own, but doesn't intrude on the story. The characters are as they are, true to their beliefs, refreshingly so at times, and that makes for some interesting conflicts and character development. There are also plenty of skeletons in various closets which add further complications.The writing is tight and well paced, despite the book being over 600 pages in length. It certainly doesn't feel that way, as the novel moves from event to event to event – and exposition is given through dialogue for the most part, and the occasional character memory. It's overall a very well crafted book, and I look forward to reading the second book of the trilogy.
Also in the Demon Child Trilogy series | View all