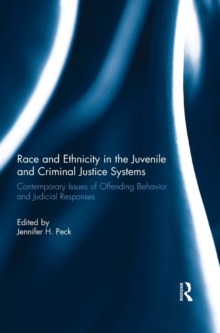 Race and Ethnicity in the Juvenile and Criminal Justice Systems : Contemporary Issues of Offending Behavior and Judicial Responses
Hardback
Description
Over the last few decades, the racial and ethnic composition of the United States has changed dramatically.
This seismic transformation has important implications for theory, research, policy, and public opinion - perhaps most crucially around the topic of race/ethnicity and our justice systems.
Recent national events - from Ferguson, to ferocious public debate about racism, to media depictions of police violence - have reawakened the tense question of race relations in the 21st century.
This edited collection of research aims to highlight contemporary issues surrounding the overrepresentation of racial and ethnic minorities throughout both the juvenile and adult criminal justice systems.
Our contributors cover both formal sources of social control (e.g. police, courts, correction facilities) and perceptions and public opinions of the relationship between race/ethnicity and offending behaviors.
As the intellectual sphere ignites with fresh debate, old questions redefined and new ones asked, this publication provides innovative insight into how race and ethnicity interconnect with all aspects of criminology and criminal justice.
Furthermore it helps encourage directions for future research, practice, and public policy.
This book was originally published as a special issue of the Journal of Crime and Justice.
Information
Format: Hardback
Pages: 250 pages
Publisher: Taylor & Francis Ltd
Publication Date: 14/03/2017
Category: Ethnic studies
ISBN: 9781138286474
Free Home Delivery
on all orders
Pick up orders
from local bookshops