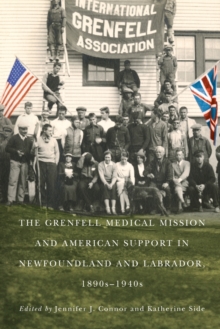 The Grenfell Medical Mission and American Support in Newfoundland and Labrador, 1890s-1940s
Paperback / softback
Description
Dr Wilfred Grenfell, physician and folk hero, recruited thousands of volunteer workers for his Newfoundland and Labrador seamen's mission, many of them Americans from Ivy League institutions.
As the medical mission grew to become the International Grenfell Association, establishing institutions along the Labrador and northern Newfoundland coasts, Americans also became resident staff leaders in the region, and Grenfell himself married an American, Anne MacClanahan, who led mission activities. The Grenfell Medical Mission and American Support in Newfoundland and Labrador, 1890s-1940s reveals the nature and extent of support from Americans throughout the distributed privately run social enterprise until the 1940s, before the region joined Canada.
Essays explore the organization's claims to share an Anglo-Saxon heritage with the United States, American reaction to its financial scandal and creation of an incorporated association, its promotion of sport and masculinity, and the development of education and schools in the region and the mission.
The organization's strong ties to the United States are exemplified by Grenfell's friendship with American physician John Harvey Kellogg; the donation of clothing from American donors; the work of one American woman on her affiliated mission unit; the impact of American philanthropy and training on the construction of the mission's main hospital in St Anthony; and the superior American-accredited health care facilities and their clinical achievements. From its corporate base in New York City, the International Grenfell Association blended contemporary social movements and adopted American notions of philanthropy.
The Grenfell Medical Mission and American Support in Newfoundland and Labrador, 1890s-1940s offers the first thorough history of an iconic health and social organization in Atlantic Canada.
Information
Format: Paperback / softback
Pages: 408 pages, 26 b&w images, 6 figures, 1 map
Publisher: McGill-Queen's University Press
Publication Date: 31/12/2018
Category: History of the Americas
ISBN: 9780773554870
Free Home Delivery
on all orders
Pick up orders
from local bookshops
Also in the McGill-Queen's/Associated Medical Servic series | View all