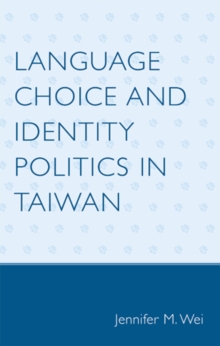 Language Choice and Identity Politics in Taiwan
Paperback / softback
Description
Jennifer M. Wei argues that construction and perceptions of language and identity parallel sociopolitical transformations, and language and identity crises arise during power transitions.
Under these premises, language and identity are never well-defined or well-bounded.
Instead, they are best viewed as political symbols subject to manipulation and exploitation during socio-historical upheavals.
A choice of language-from phonological shibboleth, Mandarin, or Taiwanese, to choice of official language-cuts to the heart of contested cultural notions of self and other, with profound implications for nationalism, national unity and ethno-linguistic purism.
Wei further argues that because of the Chinese Diaspora and Taiwan's connections to China and the United States, arguments and sentiments over language choice and identity have consequences for Taiwan's international and transnational status.
They are symbolic acts of imagining Taiwan's past as she looks forward to the future.
Information
Format: Paperback / softback
Pages: 152 pages
Publisher: Lexington Books
Publication Date: 21/08/2015
Category: Sociolinguistics
ISBN: 9780739123539
Other Formats
Hardback from £51.75
EPUB from £67.50
Also by Jennifer M. Wei