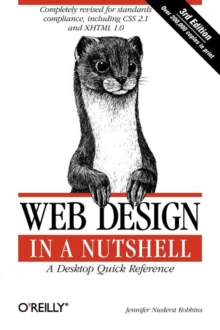 Web Design in a Nutshell
Paperback
Description
Are you still designing web sites like it's 1999? If so, you're in for a surprise. Since the last edition of this book appeared five years ago, there has been a major climate change with regard to web standards.
Designers are no longer using (X)HTML as a design tool, but as a means of defining the meaning and structure of content.
Cascading Style Sheets are no longer just something interesting to tinker with, but rather a reliable method for handling all matters of presentation, from fonts and colors to the layout of the entire page.
In fact, following the standards is now a mandate of professional web design.
Our popular reference, "Web Design in a Nutshell", is one of the first books to capture this new web landscape with an edition that's been completely rewritten and expanded to reflect the state of the art.
In addition to being an authoritative reference for (X)HTML and Cascading Style Sheets, this book also provides an overview of the unique requirements of designing for the Web and gets to the nitty-gritty of JavaScript and DOM Scripting, web graphics optimization, and multimedia production.
It is an indispensable tool for web designers and developers of all levels. The third edition covers these contemporary web design topics: Structural layer - HTML 4.01 and XHTML 1.0 (9 chapters), including an alphabetical reference of all elements, attributes and character entities; Presentation layer - ten all-new chapters on Cascading Style Sheets, Level 2.1, including an alphabetical reference of all properties and values; Behavior layer - JavaScript and scripting with the Document Object Model (DOM); Web environment - new web standards, browsers, display devices, accessibility, and internationalization; Web graphics optimization - producing lean and mean GIF, JPEG, PNG, and animated GIFs; and Multimedia - Web audio, video, Flash, and PDF. Organized so that readers can find answers quickly, "Web Design in a Nutshell, Third Edition" helps experienced designers come up to speed quickly on standards-based web design, and serves as a quick reference for those already familiar with the new standards and technology.
There are many books for web designers, but none that address such a wide variety of topics.
Find out why nearly half a million buyers have made this the most popular web design book available.
Information
Format: Paperback
Pages: 826 pages, Illustrations
Publisher: O'Reilly Media, Inc, USA
Publication Date: 01/02/2006
Category: Web graphics & design
ISBN: 9780596009878
Free Home Delivery
on all orders
Pick up orders
from local bookshops
Reviews
Showing 1 - 3 of 3 reviews.
Review by Waianuhea
16/06/2015
If you're new to web design and need to learn a lot fast, this is the perfect book for you. The problem with books on the Internet is that they're outdated almost immediately. This book is no exception. The only parts still of use to me are those on optimizing web graphics. It's also interesting as a look back into how the Internet worked a few years ago to better help understand where it is now.I got this book cheap used on Amazon so I'm happy with it. I just wish you could trade in older versions for a discount on the new one!
Review by Murdocke23
16/06/2015
Good overview of many web concepts (for when book was published, anyway). Other references cover more in depth, but that's the limitation, of such a reference book. Packs a lot in for its breadth of content.
Review by steve.clason
16/06/2015
Excellant book, stays right above my workstation. I find it easier to use than on-line references, even, and it is a staple of my workday.