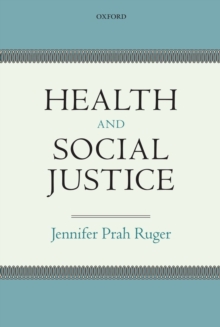 Health and Social Justice
Paperback / softback
Description
Health and Social Justice provides a theoretical framework for health ethics, public policy and law in which Dr Ruger introduces the health capability paradigm, an innovative and unique approach which considers the capability of health as a moral imperative.
This book is the culmination of more than a decade and a half of work to develop the health capability paradigm, with a vision of a world where all have the capability to be healthy.
This vision is grounded inthe Aristotelian view of human flourishing and also Amartya Sen's capability approach.
In this new paradigm, not just health care, or even just health alone, but the capability for health itself is a moral imperative, as is ensuring the conditions that allow all individuals the means to achieve centralhealth capabilities. Key tenets of health capability include health agency, shared health governance, where individuals, providers and institutions work together to create a social system enabling all to be healthy, and the use of theorized agreements and shared reasoning to guide social choice and shape health policy and decision-making.
This book provides philosophical justification for the direct moral importance of health and the capability for health and follows a norms-based approach to health promotion.
Itemploys a joint scientific and deliberative approach to guide health system development and reform, and the allocation of scarce health resources.
The health capability paradigm integrates both proceduralist and consequentialist approaches to justice, and both moral and political legitimacy arecritical.
Information
Format: Paperback / softback
Pages: 320 pages, 5 figures, 2 tables
Publisher: Oxford University Press
Publication Date: 05/04/2012
Category: Development economics
ISBN: 9780199653133
Free Home Delivery
on all orders
Pick up orders
from local bookshops