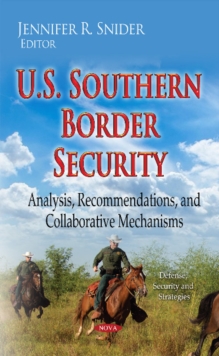 U.S. Southern Border Security : Analysis, Recommendations & Collaborative Mechanisms
Hardback
Description
Border insecurity is not a new phenomenon. For more than 25 years, Congress has increased border security resources in response to this challenge only to see illegal crossings and criminal enterprises continue to operate by shifting to other, less secure, areas of the border.
Since 9/11, billions of dollars have been spent on border security personnel, infrastructure and technology.
The United States Border Patrol has more agents in the field today than at any time in history.
There are also more miles of fencing and a wider array of technological solutions to help detect illicit crossings and the movement of narcotics than ever before.
Yet, nearly everyone agrees that the border is not as secure as it needs to be.
This book provides a blueprint for southern border security, and discusses opportunities that exist to strengthen collaborative mechanisms along the southwest border.